In the week ended (25th-30th September), a total of $79.3m was raised by African startups in 12 deals. 53% of this funding was raised by two Y-Combinator startups, Vendease from Nigeria and Numida from Uganda. Vendease came out on top, raising a $30m Series A. which was part equity ($20m), and debt ($10m). The funding round was led by TLCom Capital and Partech Africa. Other investors involved were Venture Souq, Hack VC, Kube VC, Hustle Fund, GFR Fund, Magic Fund and Kairos Angels.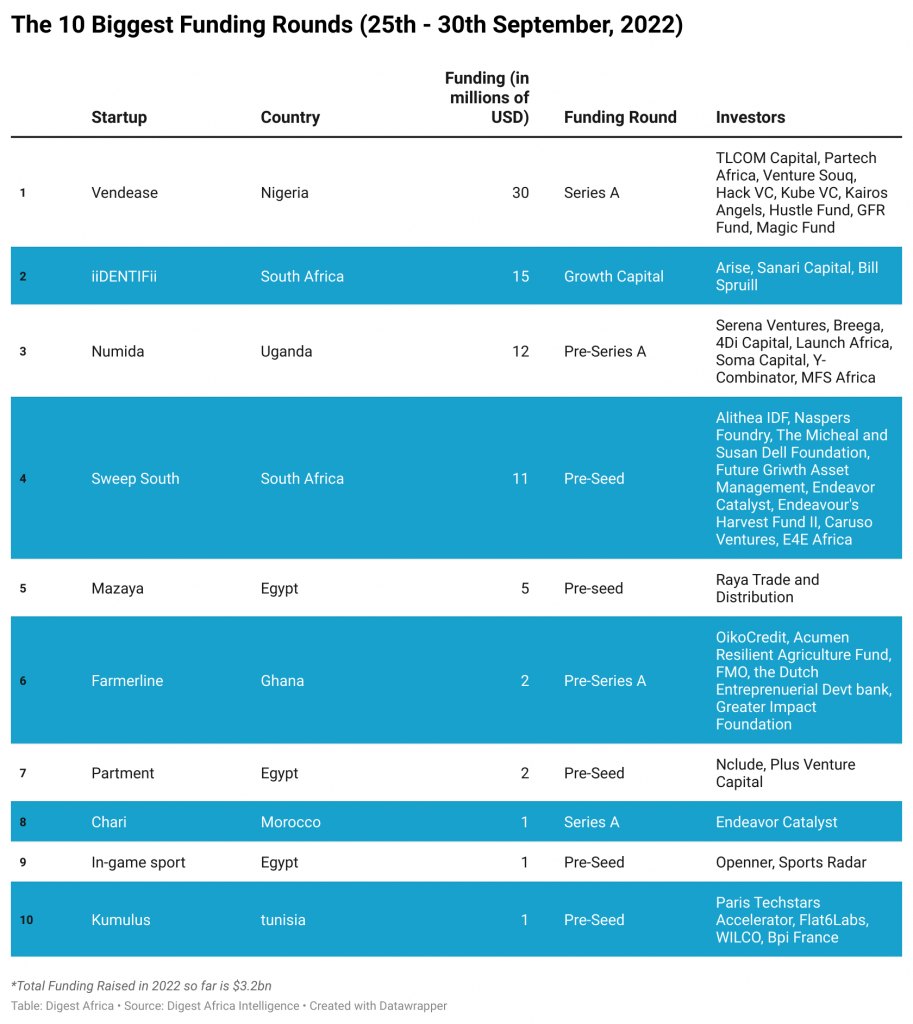 Vendease is a food procurement platform, from which restaurants order supplies. It connects both suppliers and farms to restaurants and food businesses with a promise to facilitate deliveries within 24 hours. Vendease, however, has taken on a bigger role in the supply chain by buying discounted products in bulk, storing them and making deliveries.
Vendease plans to use the funding to move into new markets, consolidate its presence in existing makes in Ghana and Nigeria as well as broaden its operations. 
Another Y Combinator-backed startup, Numida, attracted funding from Serena Williams' Serena Ventures in a $12.3m Pre-Series A. The fintech, which extends loans to Micro, small and medium-sized enterprises (MSMEs), saw participation from other investors that included Breega, 4Di Capital, Launch Africa, and Soma Capital. 
Per TechCrunch, all these investors made their first investment in a Ugandan startup.  The $12.3m was part-equity. $5m worth of debt was provided by Lendable Asset management while MFS Africa, a strategic partner also made a follow-on investment. 
South African pair of iiDENTIFii and Sweep South also raised at least $10m. iiDENTIFii provides remote digital biometric identity identification to clients like banks, insurers and mining houses. It raised $15m in growth capital from  Arise, Sanari Capital and Bill Spruill, a veteran US-based entrepreneur. 
Sweep South on the other hand raised $11m from Alithea IDF, which is Africa's first and largest gender lens private equity fund. Other investors in this deal included Naspers Foundry, The Micheal and Susan Dell Foundation, Future Growth and Asset Management and Endeavor Catalyst. 
There was one fund announcement. One of Morocco's leading financial institutions BCME, announced its BMCE Capital $4.5m Fund to invest in Moroccan startups at the seed stage, The Fund was approved by the Moroccan capital markets authority (AMMC). 
Featured Image/Vendease
About us
Digest Africa is a leading provider of data and insights on investment into African startups that investors, corporations, researchers, banks, and startups can use to make meaningful decisions. We have a database encompassing;
Over 1,400 venture capital deals for companies raising funding over the past 5 years
More than 3,000 startup company profiles
Over 400 investor profiles
Contact us for custom research and intelligence on the African startup ecosystem and venture capital. Email: info@digestafrica.com