Elon Musk's Starlink continues to expand to multiple African countries as he ramps up his efforts to become a global internet service provider. In May, Nigeria and Mozambique became the first African countries to grant Starlink a license to operate its internet service. Malawi followed suit in October, with the Malawi Communications Regulatory Authority (MACRA) issuing a public notice welcoming Starlink.
Starlink secured its license through its newly registered subsidiary Starlink Lilongwe LTD.  This license was seven months in the making after the MACRA's top brass met Starlink executives at the Mobile World Congress in Barcelona in February. In Uganda, you can currently order to reserve your Starlink, but the service date is unknown and availability is subject to regulatory approval, something that Starlink is yet to receive. 
But what is Starlink, that we are talking about?
You see, there are multiple types of internet. These include cable, satellite, broadband, and fiber among others. The most common type of internet in Africa is broadband, mobile broadband to be exact. This is provided by telcos that include MTN, Airtel, Safaricom, or Vodacom among others depending on the region that you are in. In Uganda, MTN and Airtel operate a duopoly as the major internet service providers, especially after the exit of Africell in 2021. 
But unlike broadband internet, Starlink is satellite-based, that is, wireless internet beamed down from satellites that are orbiting the earth, unlike broadband and cable that is transmitted through wires. For this particular reason, satellite internet is the most efficient way to bring remote areas online. 
Starlink is an offshoot of SpaceX, the private rocket manufacturing company that Elon Musk started in 2002.  Housed in SpaceX's development facility in Richmond, Washington, the first Starlink satellites were deployed into space in 2019. Since then, over 3000 satellites have been deployed with plans to reach 12,000 and a possible extension of up to 42,000. The goal is to create a constellation, or ring of satellites, around the earth. 
Starlink currently has licenses to operate its internet service in 40 countries across the world and has amassed 500,000 subscribers. The internet service provider is perfect for the African market where many remote areas are still not connected. This is because it would be expensive for telecom companies to expand to these areas. For starters, people in remote areas are usually low-income earners and so, it is highly unlikely that the telecoms will recoup a profit on their investment. Also, the fact that an area is remote, means a lot of wires will be needed to cover the long distances to cater to a few users. 
Another case for Starlink internet in Africa is the slow internet speeds across the continent. According to the Speedtest Global Index of October 2022, which ranks the median mobile and fixed broadband speeds on a monthly basis, Africa has the slowest internet speeds, with South Africa having the fastest mobile download speed of 34.75 megabits per second. This is just above the global average of 33.17 megabits per second. Only 9 African countries are in the top 100.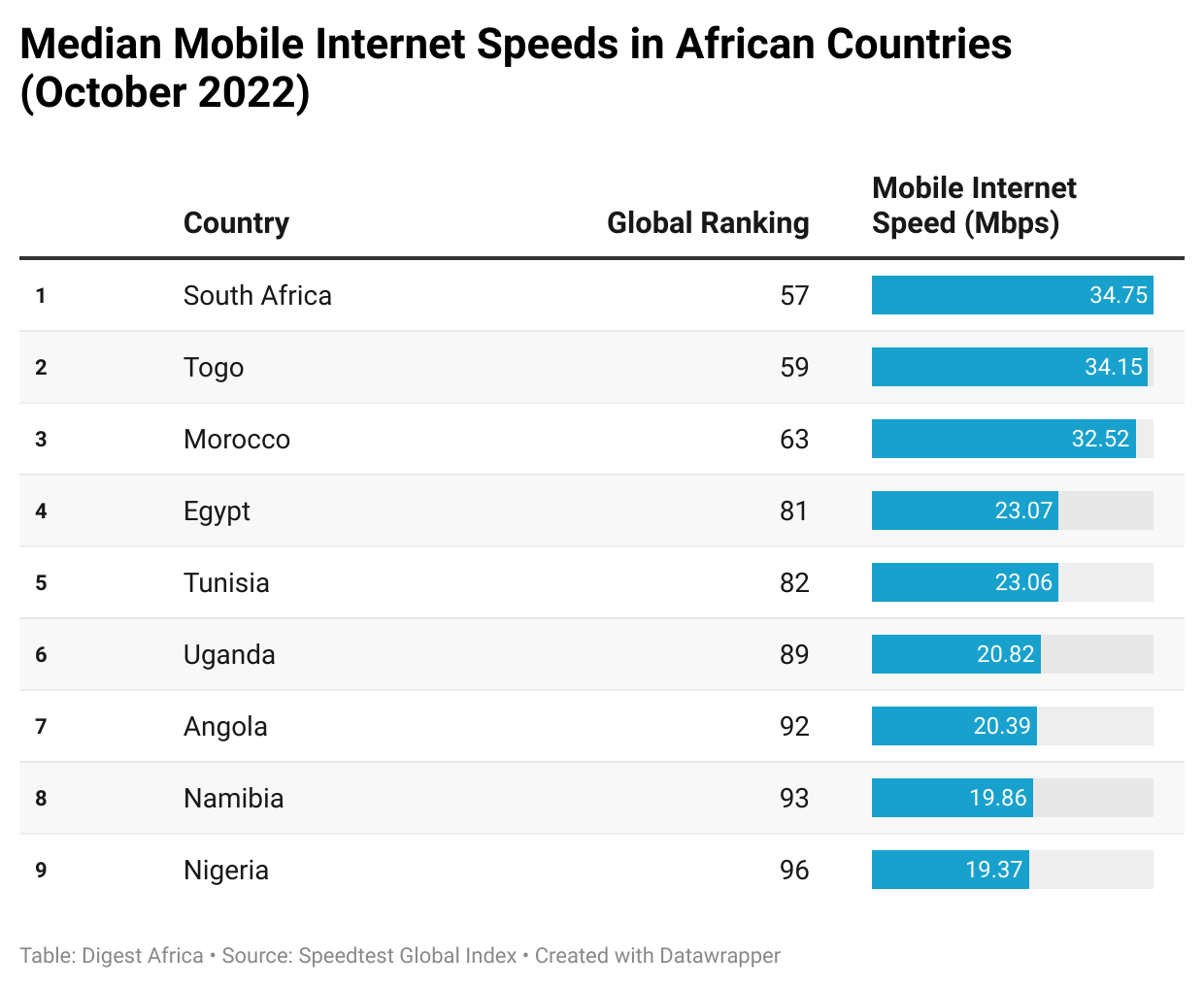 For comparison. The world's top download speeds are in Norway (126.94 Mbps), the United Arab Emirates (126.85 Mbps), Qatar (124.29 Mbps), China(116.42 Mbps), and the Netherlands (105.52 Mbps). Starlink averages internet speeds of 50-200 megabits per second, even though there have been concerns that this speed is dropping as more users join. This can be attributed to the overloading of the current satellites, but Starlink should improve this by deploying more satellites into low earth orbit. 
But will higher internet speeds and remote connectivity be enough to sway African users from mobile broadband to Starlink? I don't think so. The big barrier will be the cost of Starlink's internet. To install Starlink, one needs to part with $599 and pay $110 monthly. The premium package costs $2500 for installation and $500 every month. These prices are essentially making the internet even less accessible in Africa. 
 To provide more context on this, let us examine the Internet Poverty Index from the World data labs. The World Data Labs measures internet poverty using three metrics; affordability, quantity, and quality. One is internet poor if they spend up to 10% of their income on 1GB per month with download speeds of  10mbps. So this data does not just cater to those who have no access to the internet, but also those who find it expensive. 
As per the Internet Poverty Index, 1.4bn people globally are internet poor. Of these, close to 60% are in Africa. 11 of the top 20 countries with internet poor people are all African countries including Nigeria which has 103m, internet-poor people. DRC is second, followed by Tanzania, South Africa, and Uganda with 82m, 55m, 38m, and 37m internet-poor people respectively.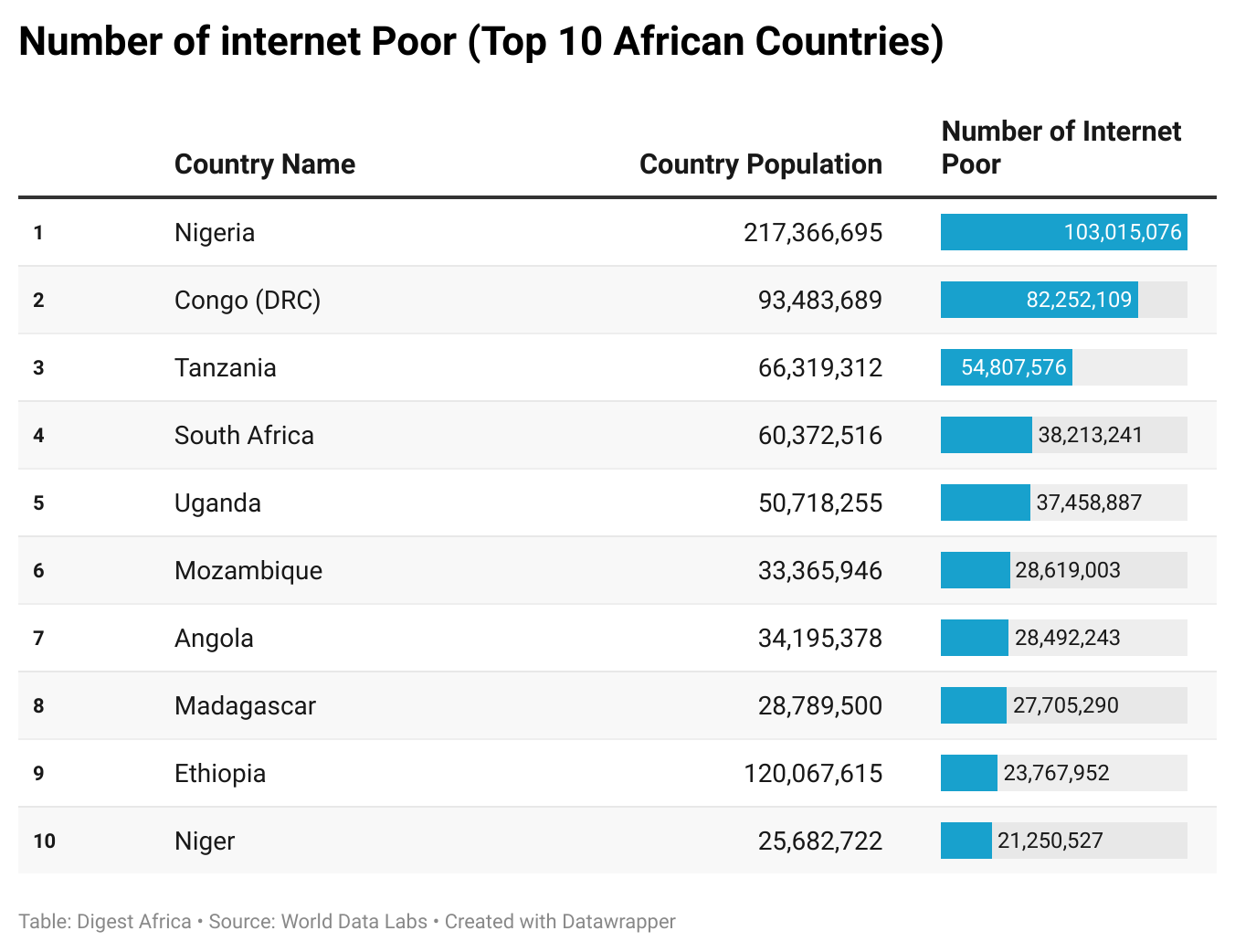 For African countries, Burundi, Madagascar, Malawi, and Guinea-Bissau have over 90% of their citizens listed as internet poor. In fact, 33 African countries have at least 50% of their population listed as internet poor.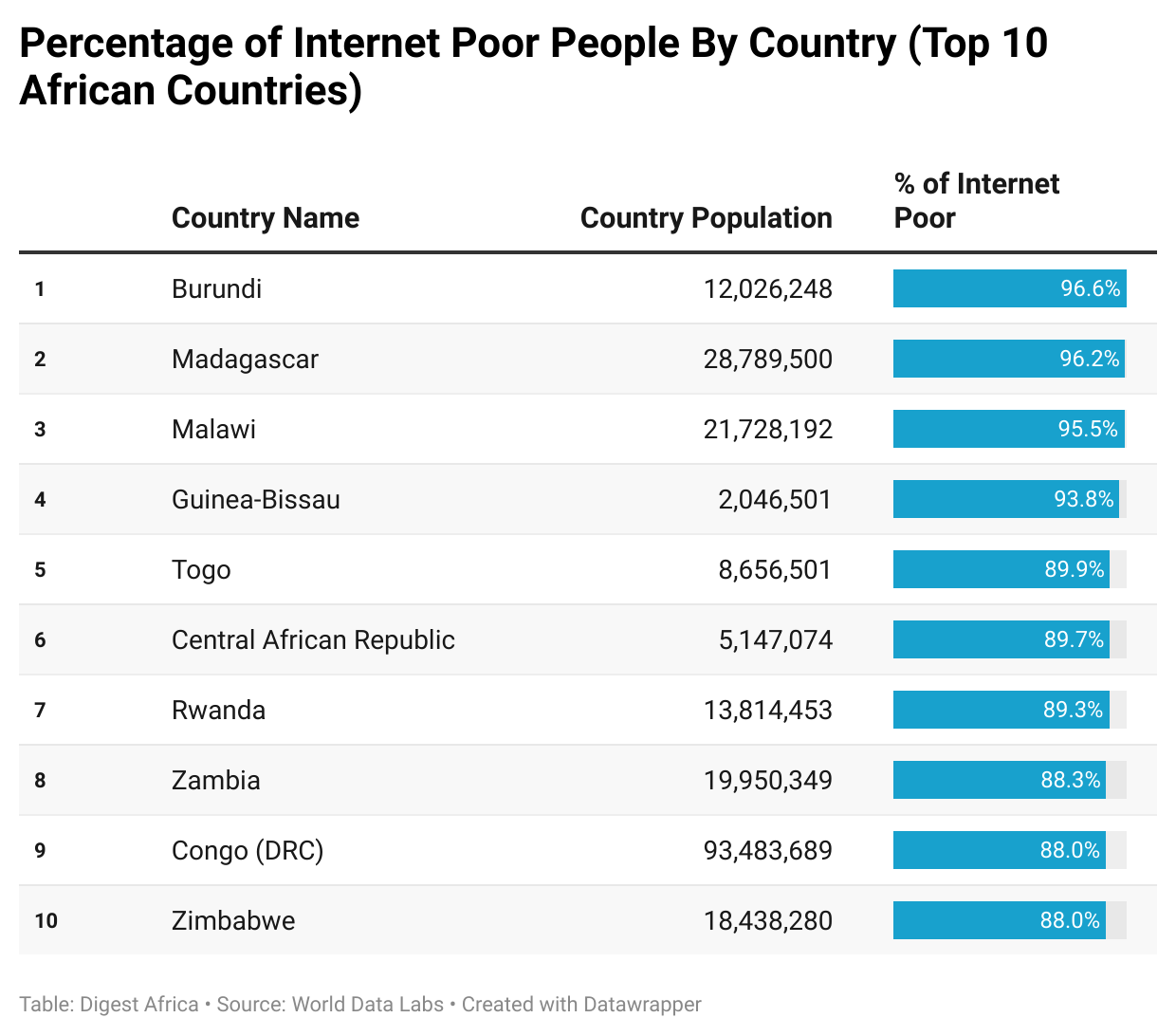 So whereas Starlink could probably sort out download speeds, it will make it even more expensive to access the internet. Starlink's goal was is bring the internet to those that couldn't access it, just like fintechs want to bring banking services to the unbanked. But the majority of fintechs ended up bringing banking services to the already banked, and Starlink will most likely end up on that road. 
The people that can afford Starlink internet, are those at the top of the pyramid of those that already have internet. And in this case, it will be those where internet speed is absolutely essential to their work that will find buying Starlink, a logical purchase.  
But it is too early to crucify Starlink. The service is new, and not even half of the satellites needed have been deployed. Just like the way mobile broadband internet prices kept falling as more users signed up and telcos expanded their coverage, the same could happen for Starlink. 
But also, Starlink can do price segregation depending on a user's location just like Netflix. In Uganda, a standard Netflix plan that supports 2 devices at a time, will set you back by $9.99 a month. The same plan costs $15.49 a month in the USA and £10.99 in the UK. Netflix does this to factor in the cost of living in different locations. $9.99 in the USA does not hold the same purchasing power as $9.99 in Uganda.
In conclusion, it is still the early days for Starlink in Africa, a region that probably needs satellite internet more than any other. But Starlink's value proposition of speed and remoteness will not be enough in a region that is very price sensitive. 
Cover Photo/Pinterest
The writer is a retired founder, and now Editor-in-Chief at Digest Africa. You can reach him at +256771162922 or jnlubwama@digestafrica.com
About us
Digest Africa is a leading provider of data and insights on investment into African startups that investors, corporations, researchers, banks, and startups can use to make meaningful decisions. We have a database encompassing;
Over 1,400 venture capital deals for companies raising funding over the past 5 years
More than 3,000 startup company profiles

Over 400 investor profiles
Contact us for custom research and intelligence on the African startup ecosystem and venture capital. Email: info@digestafrica.com