Fintechs, sometimes classified as Financial Services, is a term used to refer to startups that are using technology to provide traditional financial services. The fintech scene in Africa is currently the most attractive sector for investors, due to its enormous potential. In the West, fintechs disrupt the traditional delivery of financial services. But in Africa, the fintechs are sometimes the first point of financial inclusion for its customers.
In this article, we will explore the potential of fintechs that has attracted investors, who have backed fintechs more than any other sector. But first, we will look at the different types of fintechs operating in Africa and then, how fintechs have dominated funding.
For the types of fintech, we have categorized them into 10 including neobanks, insurtechs, wealth management, remittances and payments as shown in this table.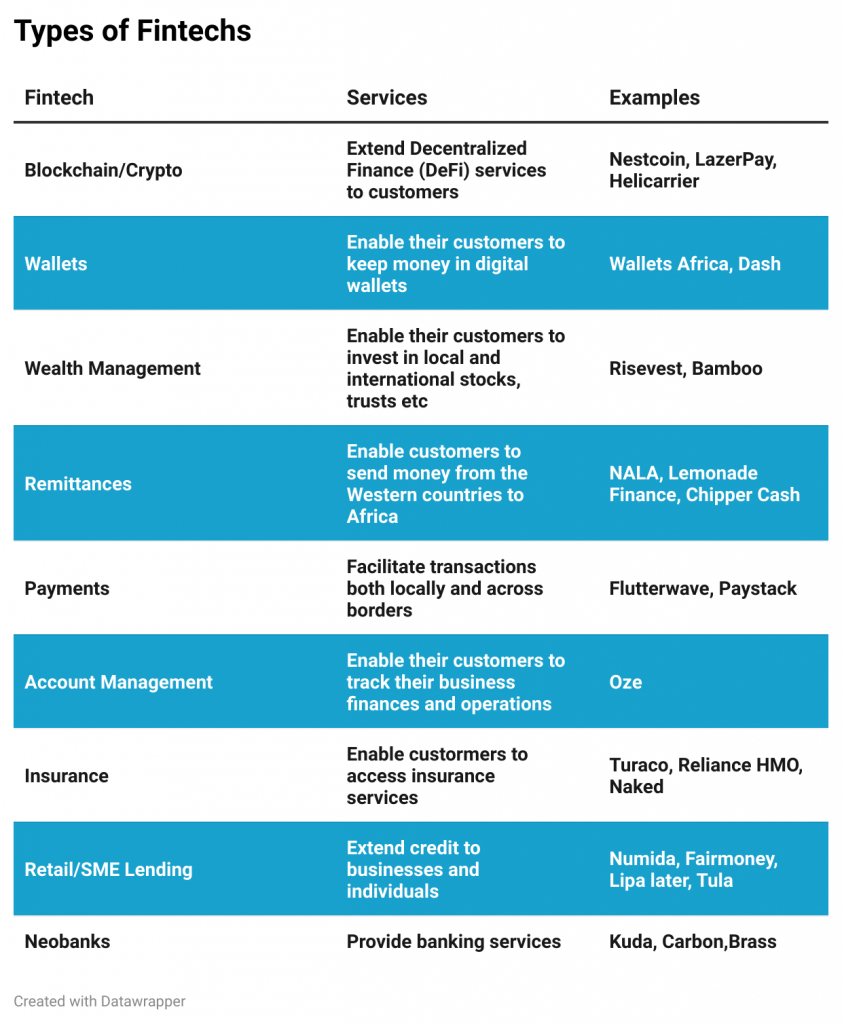 From 2019-2022, African startups raised $9.5bn from1,702 deals with 42% of this funding coming in the record 2021 where $4bn was raised. In 2022, as of July 31st, African startups had already raised $2.9bn, on pace to match or beat 2022's record tally despite the economic downturn that has seen venture capital dry up in other startup ecosystems. 
Of all the funding received, fintechs have enjoyed the lion's share(47%). But this is not the case when it comes to deal counts where fintechs only raised 28% of all deals. This is partly because the average fintech deal during that period is $9m which is 3x the average deal size of all the other sectors.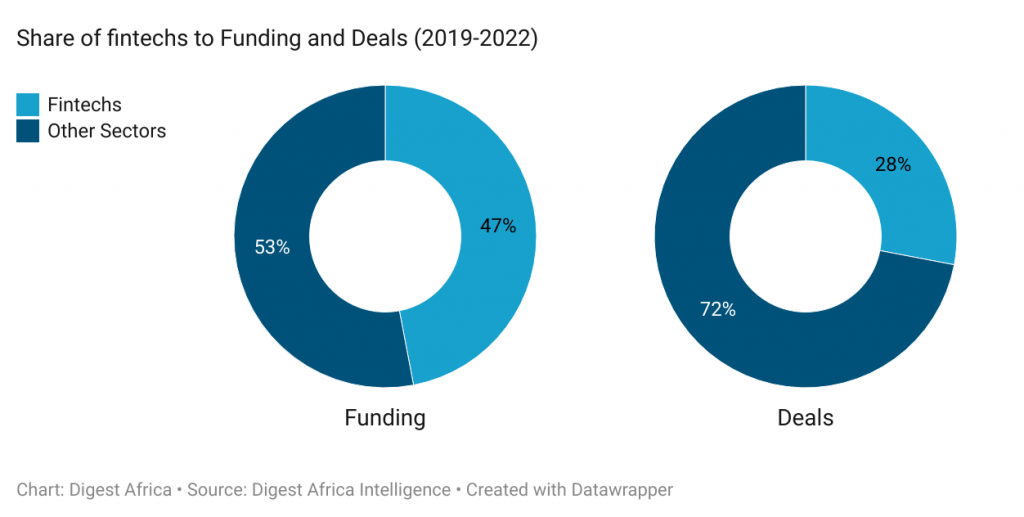 When we broke down the funding on an annual basis, fintechs raised more funding than all the other sectors combined in 2021 and are just $100m short of equalling the tally raised by all the other sectors combined in 2022 so far.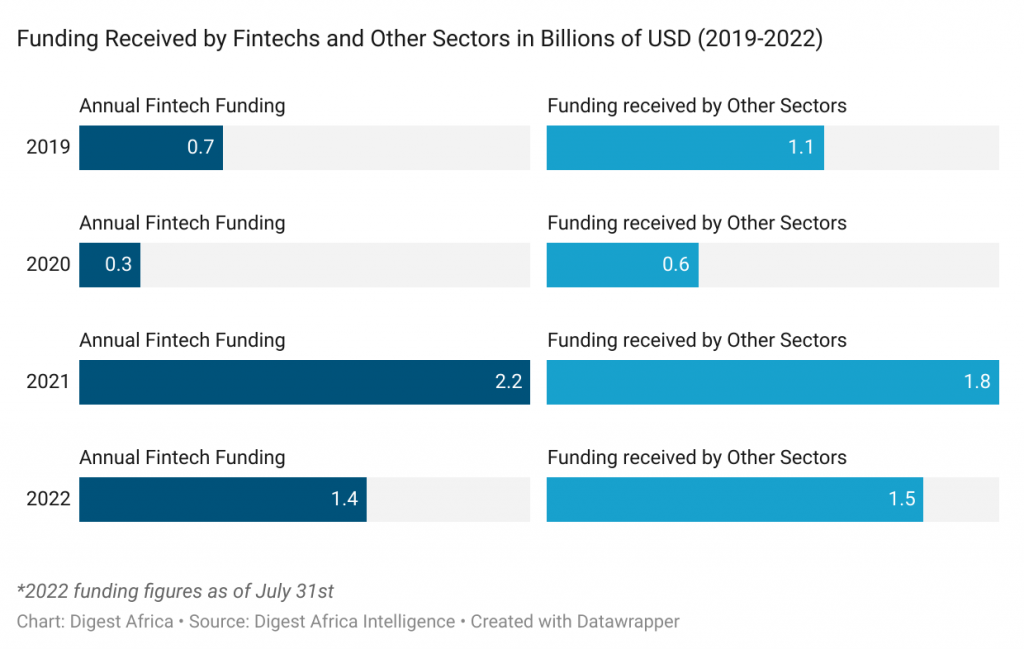 This can be further shown by the dominance of fintechs in the largest funding rounds per ear. In 2022, 8 of the 10 biggest funding rounds were raised by fintechs. Halan, an Egyptian ride-hailing startup, that isn't classified as a fintech but as a mobility startup, also has significant fintech features in its super app.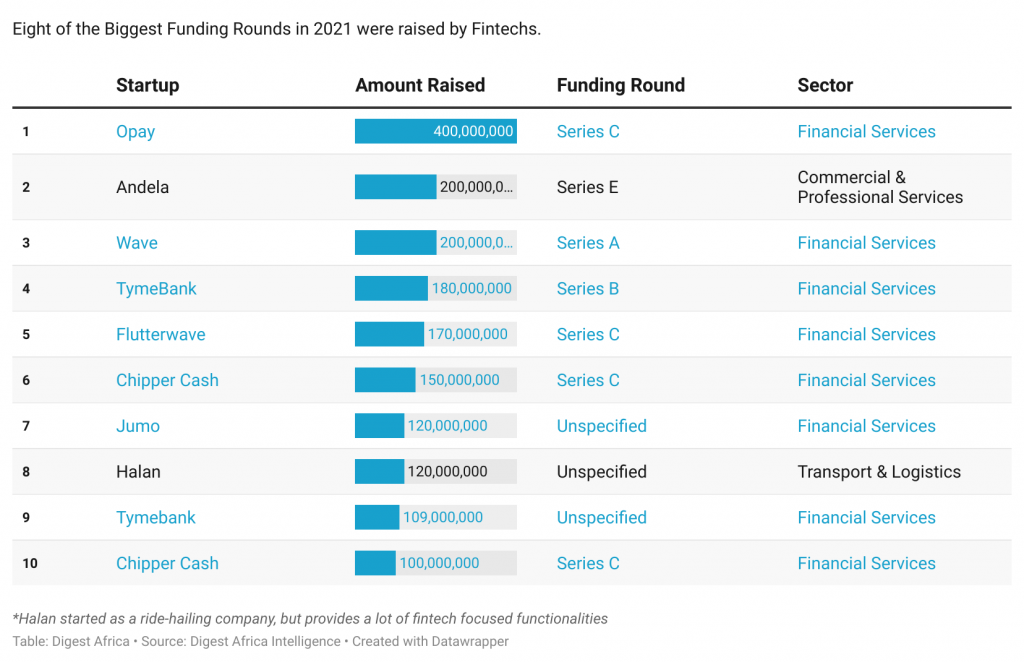 The dominance of the largest funding rounds looks to continue in 2022 as the six biggest funding pounds raised this year are by fintechs including two, Flutterwave and Wave, that raised the top 10 funding rounds in 2021.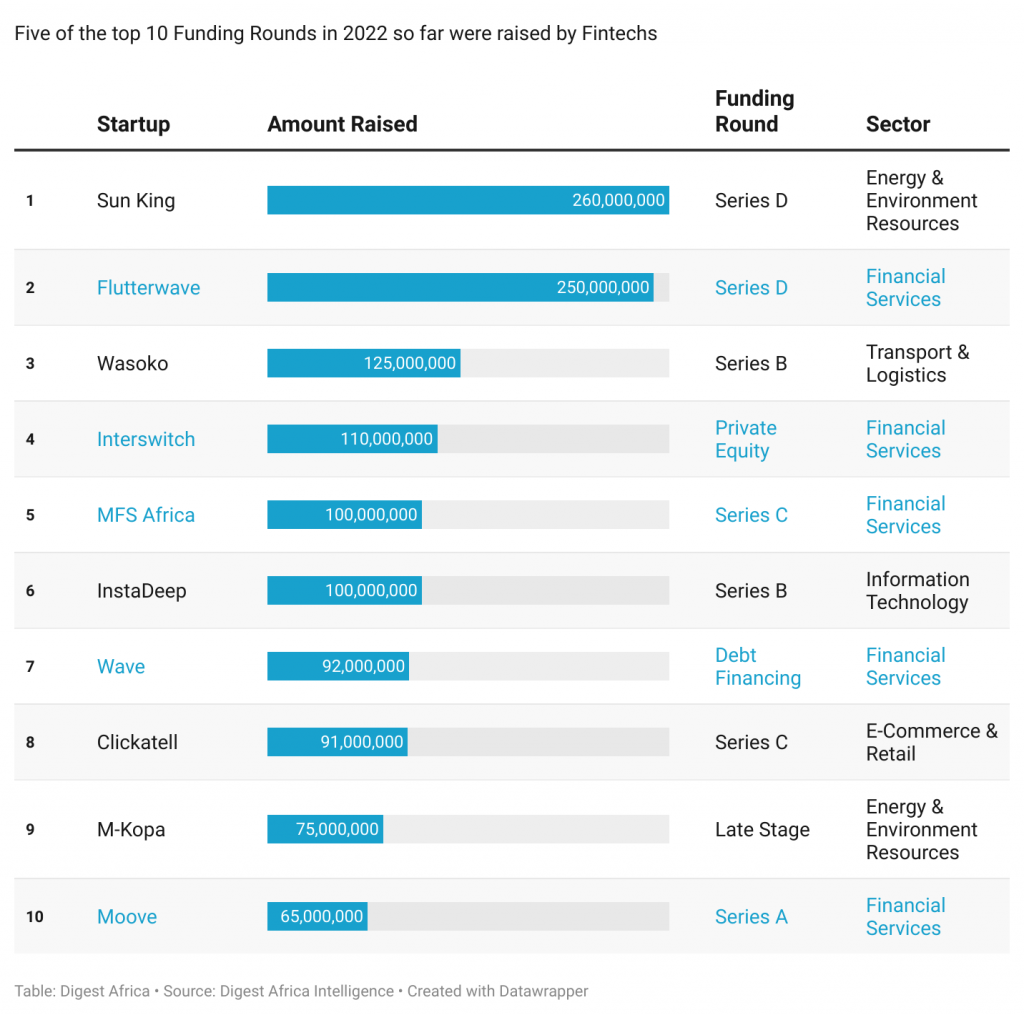 To understand why fintechs raise more funding, we need to understand why startups raise financing, and why investors back the startups. Per Paul Graham, startups are built to grow fast. And to be able to accomplish this, startups turn to funding. Funding enables the startups to grow at a pace that they desire rather than the limitations of bootstrapping that is, you can only grow as fast as the amount of money that you make. This is where the investors come in.
Investors back startups to get a return on their investment. Most investors raise money from institutional investors like family funds, pension funds and wealthy individuals. So the VC firms have to deliver returns for these investors by picking the right startups for investment. Fintechs have proven to be the most attractive sector in Africa, as per the number of deals and funding they command over the other sectors. But why is this so?
Funding or building fintechs is building the frontier of the startup ecosystem. Fintechs underpin the entire economy. For most technology startups to operate flawlessly, payments and money transfers need to be solved first. If you are building a health tech that allows customers to get virtual consultations with verified medical professionals, you are building a startup that is providing convenience. It makes sense for the customers to be able to pay online, rather than through cash. So before all the other sectors can operate efficiently, payments and money transfers should be solved first. So it is reasonable that fintechs are receiving the most funding right now, as they are crucial for the growth of all other sectors.  
Another reason VC firms are backing fintechs is because of their total addressable market. As of 2022, only 48% of African adults have access to formal banking institutions. When we add the underbanked, this figure rises to about 65%. This opens up a gap for the fintechs to exploit. In a way, fintechs are not necessarily disrupting the formal banking sector in Africa, but rather, they are the first point of financial inclusion for many across the continent. McKinsey estimates that fintechs pulled in revenues of about $4-6bn in 2020. But 90% of transactions in Africa are still cash-based. Fintech revenue is expected to grow by 10% per annum and could reach $230bn by 2025 ($150bn excluding South Africa). Investors recognize this potential and have backed the startups building these solutions. 
There are other factors that make fintechs very attractive to investors. These factors are not fintech specific but do apply to other sectors as well. To use most fintech, one needs a smartphone and a reliable internet connection. Also, most fintechs target urban dwellers. Per the GSMA Mobile Economy Sub-Saharan Africa 2021, access to mobile subscriptions in Africa is set to grow at a CAGR of 4.4% from 2020-2025 from 495m to 615m in 2025, which will be 50% of the African population. Of these 615m mobile subscribers, 64% of them will be smartphone users. But in places where feature phones are dominant, some fintechs have adopted the use of USSD codes to serve their customers. With 40% of Africa's population below the age of 15, first-time mobile subscribers will be the primary source of growth for the foreseeable future. 
Internet penetration has also been growing across the continent. In 2020, internet users were 303m or 28% of the population, but this number will grow to 474m by 2025, a CAGR of 9.3% with 4G adoption accounting for 28% of those connections. 
About us
Digest Africa is a leading provider of data and insights on investment into African startups that investors, corporations, researchers, banks, and startups can use to make meaningful decisions. We have a database encompassing;
Over 1,400 venture capital deals for companies raising funding over the past 5 years
More than 3,000 startup company profiles
Over 400 investor profiles
Contact us for custom research and intelligence on the African startup ecosystem and venture capital. Email: info@digestafrica.com