Some of my writing is inspired by some of the best articles I have read. One of them was about the top smartphone apps in Africa by Emeka Ajene. Whereas that article focused on the African continent, I decide to do one that focused on Uganda. 
In this context, most downloaded doesn't mean the apps that have the most downloads in their lifetime on the Google Playstore (though insights into those apps would be interesting), but what apps are currently attracting the most downloads over a period of time? 
To provide these insights, we will turn to data from AppFigures, an American app analytics tracking company that not only tracks app performances in the Playstore and App store but also offers analytics for individual apps for developers at a fee among other services. AppFigures refreshes its lists daily, so this data was based on the most downloaded apps as of 8th November 2022. For our data, we will use Google Playstore data from Android because it is by far the most dominant operating system in Africa. 
What are the 20 Most Downloaded Apps in Uganda?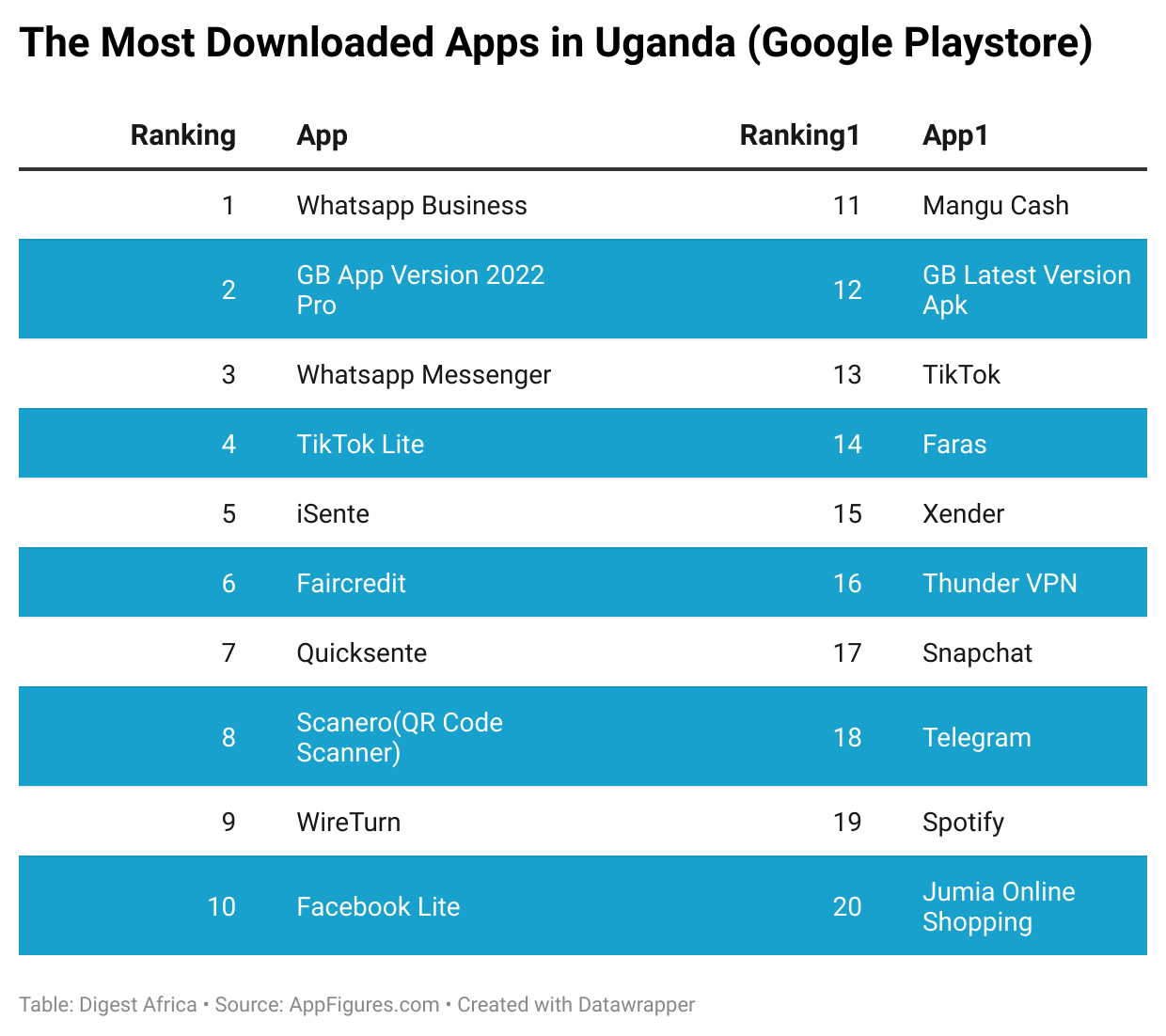 As per the data, Whatsapp Business is Uganda's most downloaded app, pushing Whatsapp Messenger to third. However, it is highly unlikely that Whatsapp Business has more users than Whatsapp Messenger in Uganda. (I am speculating because Meta does not release these numbers). It is more likely to be a case of Whatsapp Messengers installs have stagnated due to the app being in use by most smartphone owners already. And there is a big chance that it is the Whatsapp Messenger users that are downloading Whatsapp Business as well because it has become common practice for users to have both.
In a similar vein, there are two modded versions of Whatsapp in the top 20, GB App Version 2022 Pro in second and GB Latest Version Apk in 12th. This shows that Ugandans have an appetite for features that both Whatsapp Messenger and Business do not offer. 
The light (both size and internet usage) versions of TikTok and Facebook (TikTok Lite and Facebook Lite) are all in the top 10, unlike their heavier versions. This is because, like most African countries, the Ugandan smartphone market is dominated by Chinese smartphone makers (Transsion Holdings, which makes Tecno, Infinix, and iTel brands. These phones have low memory, storage, and efficiency. So Ugandans are trying to make the best of the circumstances by downloading the lite versions to maximize phone storage and efficiency. 
Our poor quality, but expensive internet is also evident in the most downloaded apps. WireTurn, an app that enables users to access free internet ranks 9th on the list, while Xender, an app that enables users to share files, videos, and audio is 15th. Ugandans use it to avoid the cost of having to use their internet bundles to download these files. The option would be Bluetooth, but Xender is much faster.  
Finally, the last takeaway from the top 20 is the instant loan apps. Getting credit for most people is a pipedream from traditional financial institutions. Ugandans have turned to instant loan apps despite their high-interest rates, short repayment periods, and shoddy usage of user data. iSente, Faircredit, Quicksente, and Mangu Cash are all in the top 20.
In fact, the top 10 apps in Finance, as a category, all provide instant loans without the need for collateral. The only exception is the MTN Momo App which is the Mobile money app of MTN. It also provides loans through its MoKash program.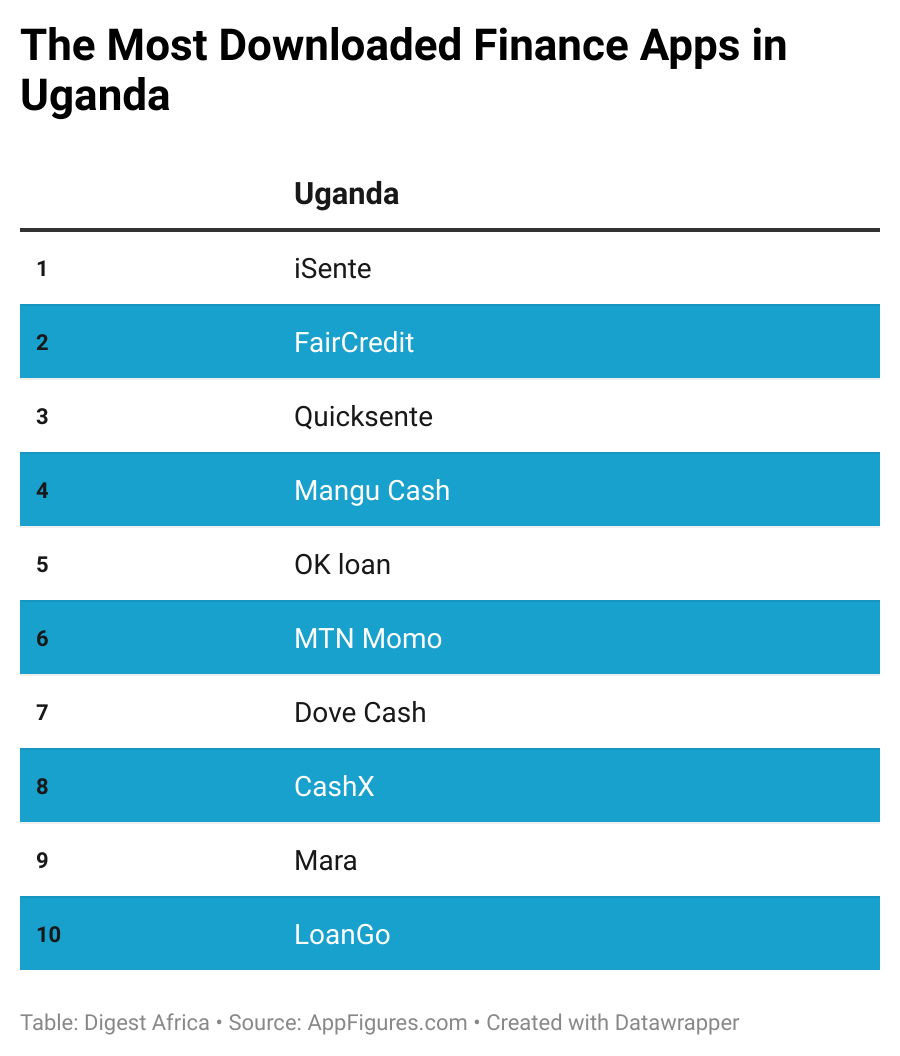 How does Uganda Compare with Selected African Countries? 
We compared the top 10 Most downloaded apps in Uganda with those in a few selected African countries (Kenya, Nigeria, and South Africa).  WhatsApp Messenger is a common app in all the countries we selected.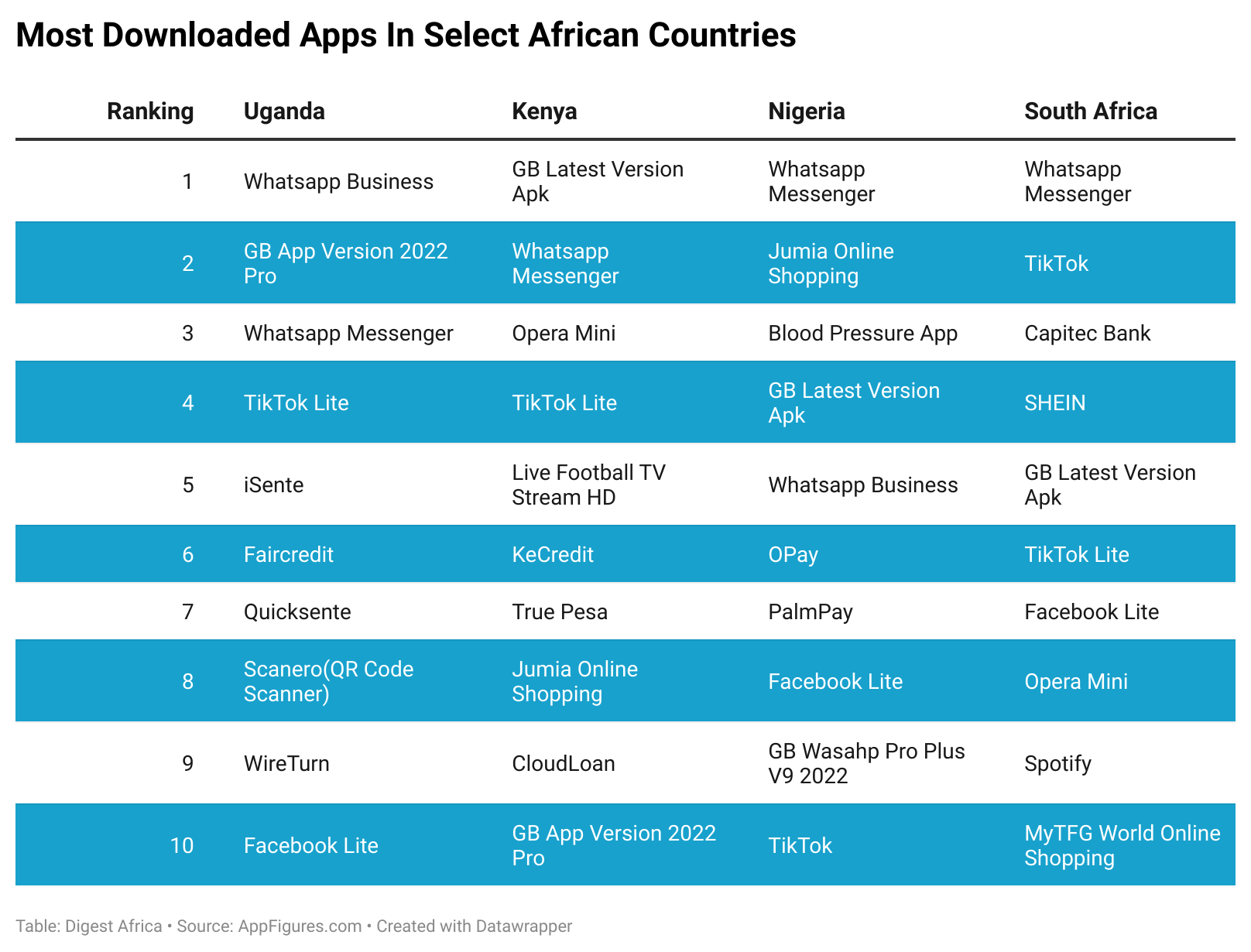 What Are the Most Downloaded Apps in Uganda in Selected Categories?
While we have the general picture of the most downloaded apps, we decided to zoom in on a few sectors. It is important to note that Google has a checklist of categories that a developer chooses when uploading their app. For example, if I am building an app that enables users to send money to Kenya, I will choose Finance as its category when uploading it to the Playstore.
The first category we will focus on will be Health and Fitness.  The top 3 apps in the play store are all Blood pressure apps. in what could make Dr. Kasenene proud, a fasting app (Fast Easy: fasting Tracker) is the 5th Most Downloaded app. An app that helps people to do Yoga, Daily Yoga: Fitness + Meditation also cracks the top 10. 
In 10th is Body Editor: Photo Editor, an app that helps users to edit their pictures. Using the app, one can have a slim body and skinny waist and do face retouch on their images among other features. The fact that it is in the top 10 could be a marker of Ugandans trying to build an illusion of perfection, at least on a physical appearance level.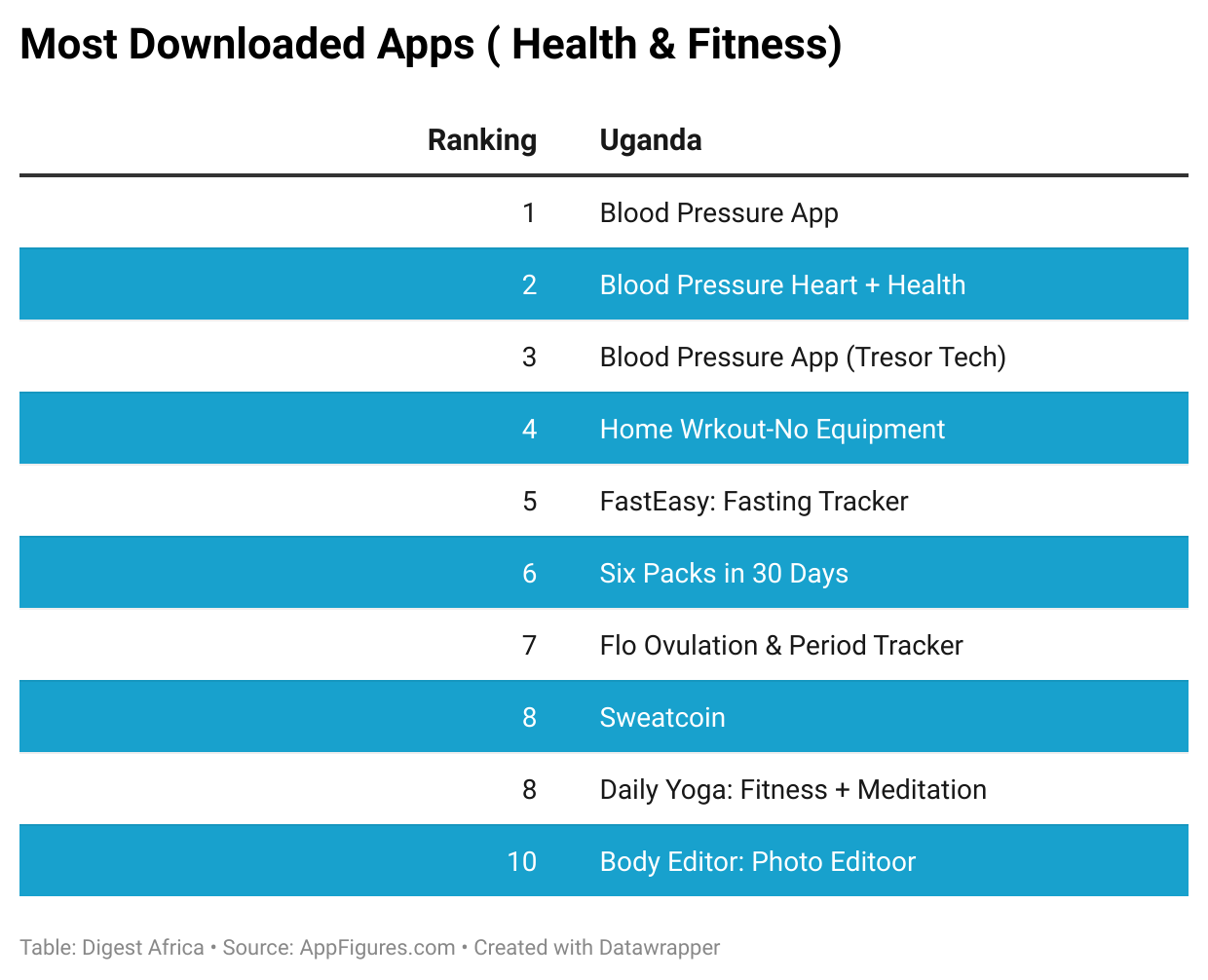 In entertainment, StarTimes'  ON-Live TV app was ranked first. The app, owned by a Chinese firm, has gained a foothold in the Ugandan market. Ranking higher than all Multichoice apps (MyDdstv, MyGotv, and DSTV) could be down to the fact that you can still use the app even when you don't possess a Startimes decoder. Also, their cheap offerings and various payment plans of daily, weekly, and monthly must have given them an edge.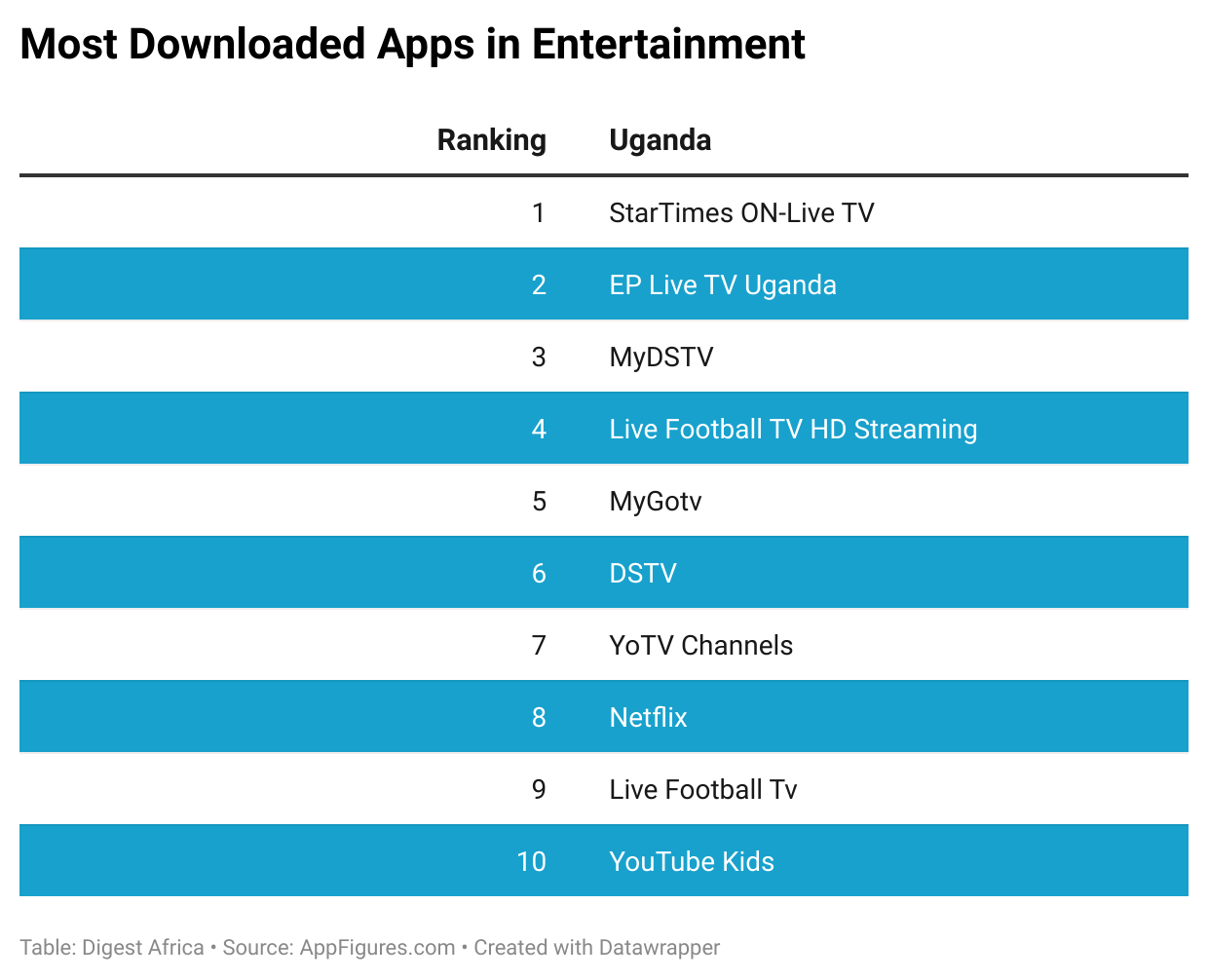 But Startimes doesn't show the popular English Premier League and Champions League, and with DSTV considerably out of reach for many pockets of the urban youth, illegal streaming apps have become a solution. Two of them: Live Football TV HD Streaming and Live Football TV are all in the top 10. MTN can celebrate one over Airtel. The MTN -backed YOTV Channels is 7th on this list. Airtel's Airtel TV was 16th. 
In the music and audio category, we noticed that Ugandans like to channel their inner Slick Stuart and Roja. Three DJ apps, Cross Dj, DJ Music Mixer, and DJ Mixer Studio are all in the top 10.  Spotify, however, was the most downloaded app in this category. Another app that allows Ugandans to stream music, BoomPlay is third. Two apps from where Ugandans download music, MP3 Downloaders Music and Music Downloader MP3 also make the top 10. There is a surprise appearance of Anchor, an app that enables users to create their own podcasts. This could signal a rise in the popularity of podcasting.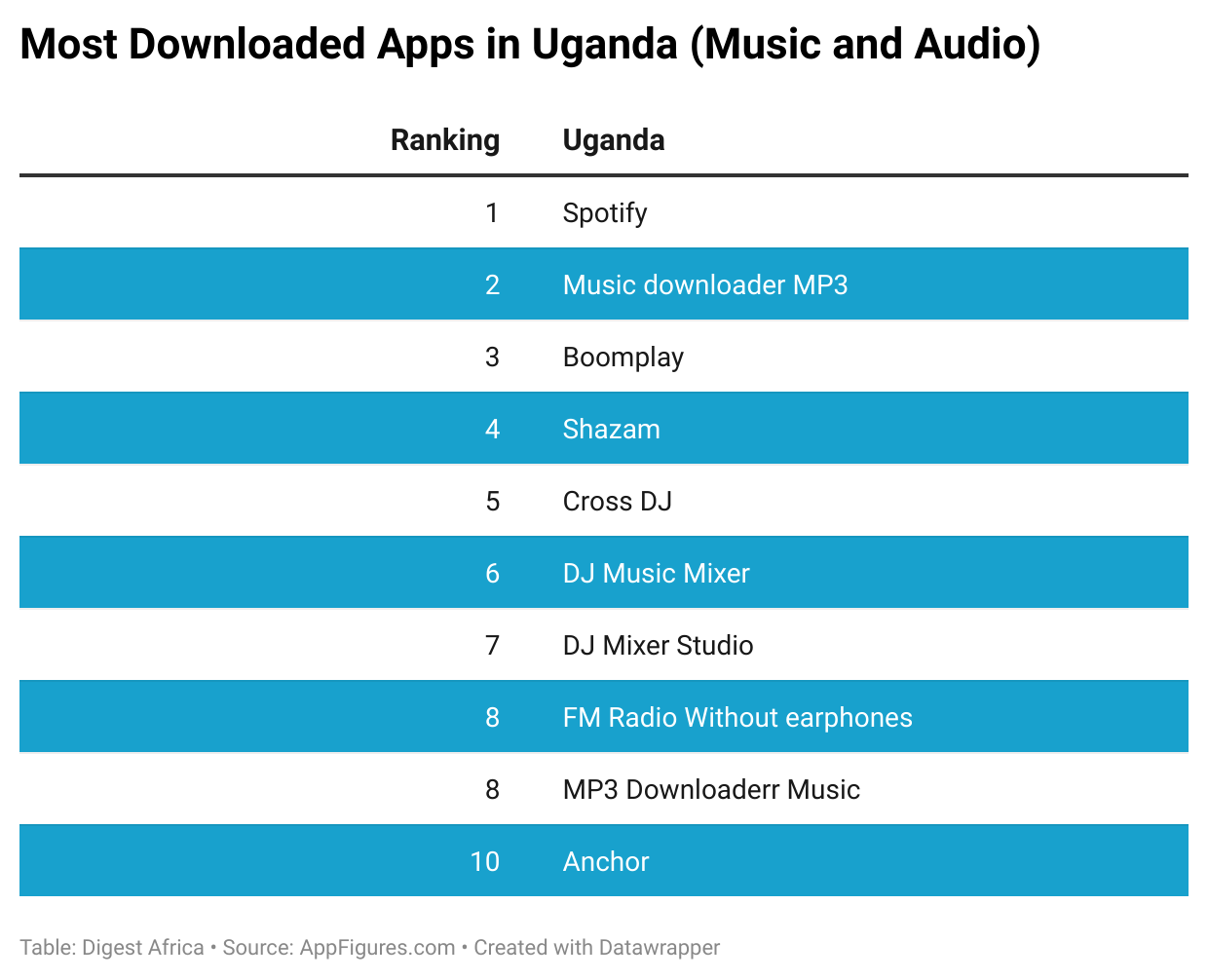 The writer is a retired founder, and now Editor-in-Chief at Digest Africa. You can reach him at +256771162922 or jnlubwama@digestafrica.com
About us
Digest Africa is a leading provider of data and insights on investment into African startups that investors, corporations, researchers, banks, and startups can use to make meaningful decisions. We have a database encompassing;
Over 1,400 venture capital deals for companies raising funding over the past 5 years
More than 3,000 startup company profiles
Over 400 investor profiles
 Contact us for custom research and intelligence on the African startup ecosystem and venture capital. Email: info@digestafrica.com