For startups to develop, they need long term debt financing. It helps them to meet their liquidity needs over their active lifetime. It is also preferred due to the fact that it's less costly than other forms of financing especially equity, because of its payment structure in the form of regular instalments and the options for refinancing. Despite Africa's enormous potential, the International Monetary Fund warned that the continent faces a projected financing gap of $345bn through 2023.
Startups are very risky and unpredictable which makes it very difficult to attract various forms of financing except for venture capital. So it is not surprising that from 2015 to 2021, African startups raised just $1.3bn in debt financing. This accounts for just 14% of the $9.3bn that was raised by startups during that time. 
In 2021, African startups raised $386m in debt financing across 32 deals. This was a 77% increase from the $169m that was raised in 2020 from just 12 deals. This brought the entire total raised by African startups to $1.3bn since 2015 when we tracked our first deal, a $50m investment by KFW into Kenya-based Shelter Afrique on 6th January 2015. 
 By the end of 2015, African startups managed to raise $100.5m with Tanzania and Kenya contributing $95m. Nigeria was the only other country that pulled in any debt financing, contributing the remaining $10m. This figure fell to just $38m for the whole of 2016.
Only 17 African countries have managed to raise a debt funding deal of any sort, but the top 4 countries( Kenya, Nigeria, Tanzania and South Africa) account for 81% of this funding. Kenyan startups raised $588m(47%) of this amount beating out Nigeria ($193m) and Tanzania  ($147m). South Africa with $123m raised and Uganda with $70m rounded off the top 5. Kenya still ruled the roost in terms of deals with 44 (35% of all deals) followed by South Africa with 17 and Nigeria with 13. Uganda and Ghana were tied on 12 deals. 
The most funded sector according to our data is energy and environment resources which raised $670m (55% of the entire amount).  Financial services was a distant second with $267m while E-commerce and Retail raised $114m. Agriculture ($66m) and Media and entertainment ($51m) came fourth and fifth respectively. There were 12 sectors that saw debt financing rounds, but 745 of all funding was raised by just three sectors: Energy and Resources, Financial Services and Agriculture. 

In terms of deals, Energy and environmental resources had 42 deals or 34% of all deals. Financial Services had 33 deals.  Agriculture was the only other sector that managed to get at least 20 deals, finishing with 21
A lot of funding initially went into the solar energy sector as the greening agenda took hold moreover most solar power company business models have evolved to provide a platform, data and operational know-how as a basis for debt financiers to fund assets for the end-user. Technology derisking lending. 
We are now seeing a wave linked to debt financing for assets related to working capital (fintech, retail and trade) to fund inventory for businesses mostly and working assets (transport and logistics) to fund motorbikes and accessories for riders. Solar power assets continue to be funded by debt.
Eventually, for every sector, technology companies will enable data to be collected and allow derisking for more debt to flow into African markets towards filling the credit funding gap estimated at $345bn annually. 
The Startups That Have Raised the Most Debt Financing in Africa
A total of $580.5m has been raised by the five startups that have raised the most debt financing in Africa. Of these, 4 are energy startups with the outlier being Trade Depot, an eCommerce startup. 3 of these startups are based in Kenya while the other two are from Nigeria and Tanzania.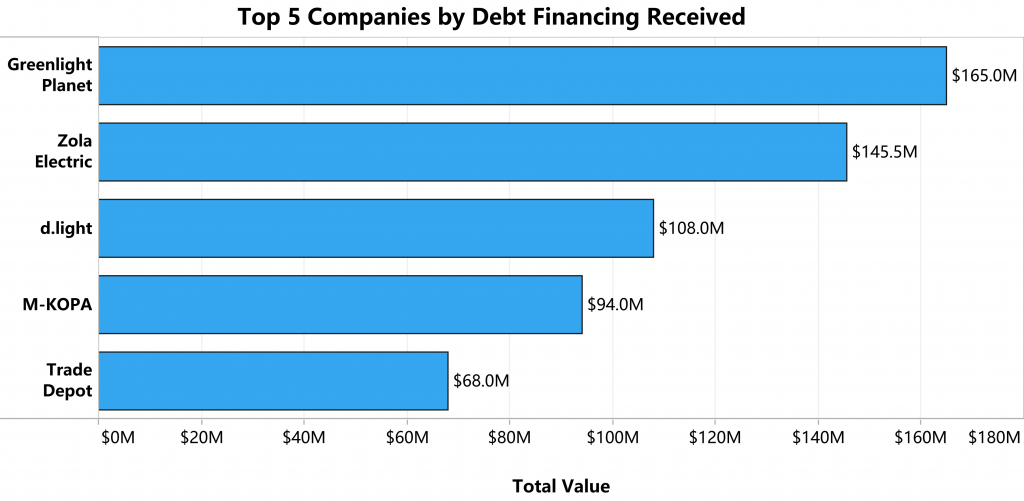 1. Greenlight Planet ($165m, Kenya)
Greenlight Planet is a solar startup that operates in Kenya. They are the makers of SunKing solar powered products that can be accessed by customers through the Pay-as-you-go model. The startup has raised two debt financing rounds since its inception. 
The first one was a $90m round in September 2020 from CDC Group, Norfund, FMO, ResponsAbility and SIMA Funds. It raised another debt financing round in October 2021 getting $75m from CDC Group and Norfund taking its total debt finance to $165m.
2. Zola Electric($145.5m, Tanzania)
Zola Electric is another renewable energy brand based in Africa that makes our list. It enables customers to power their homes and small businesses through the provision of affordable solar energy products. 
Their solar systems are also bought over time through the pay-as-you-g model with payments being made using mobile money. The startup has raised 12 funding rounds including five debt financing rounds with the biggest being $45m from FMO and SunFunder in September 2021.
3. D.light ($108m, Kenya)
Founded in 2004 by Ned Tozun and Sam Goldman, D.light delivers affordable solar-powered solutions that include solar lanterns and mobile charging kits. It has operations in Kenya, Tanzania and Uganda. D.light has raised $212m across 16 funding rounds of which 6 are debt financing rounds with the biggest of them all being a $50m round in April 2018 from the European Investment Bank, ResponsAbility, Sun Funder and SIMA Funds.
4. M KOPA ($94m, Kenya)
Mkopa pioneered and kickstarted what has become the pay-as-you-go model of buying solar products. It's one of the world's most advanced asset financing platforms giving its customers access to solar lighting, energy-efficient TVs, fridges, smartphones and cash loans. 
It is the recipient of multiple awards including Fast Company's Most Innovative Companies in 2015 and 2018, the Zayed Future Energy Prize in 2015 and the Bloomberg New Energy Finance Award in 2014 among others.
M-Kopa has raised a  total of $171m across 14 financing rounds of which three are debt financing rounds including one of $80m in October 2017. Investors in this round included Stanbic Bank, CDC Group, FMO, Norfund, ResponsAbility, Symbiotics Group and Triodos Investment Management. 
5. Trade Depot($68m, Nigeria)
Trade Depot operates a B2B marketplace in Nigeria where it connects small shops, kiosks and retailers to wholesalers of consumer brands. It owns its warehouses and has a fleet of drivers to carry out the logistics part of the business. 
In 2020, the startup claimed to have 40,000 merchants on its platform but this number grew to 100,000 merchants by the end of 2021. It has expanded into new services like Buy Now Pay Later through its ShopTopUp platform where retailers can access a credit line for consumer goods. It raised a $68m debt financing round on 6th December 2021 from Arcadia Funds to extend this service across Africa. 
*The data used in this story is from 2015 up to 20th February 2021. 
Cover Photo Courtesy of Apis Partners
Subscribe to any of our annual packages on our website. You can also purchase reports and data behind this article  directly from our website
To share with us a press release or fundraise or for customized data and analytics, we urge you to complete and or claim your company profile on our website and reach out to us at info@digestafrica.com