For investors, having reliable and timely information on companies including when they are likely to raise a funding round is key. For companies, assessing runway and when to raise the next round of funding and thus prepare appropriately is important to the survival of the business. Using data from Digest Africa, this article presents an assessment of the number of days between funding rounds for African startups.
Using data collected on 75 Startups in the African fintech space between September 2008 to October 2020, the data shows that the minimum seed funding was $200,000 (Africa's Talking) while the maximum was $8.4M (Chipper Cash). For series A, the minimum funding was $420,000 (Aura) while the maximum was $52M (Jumo). The startup which took the least number of days from seed to series A was Names and Faces at 37 days while Africa's Talking had the maximum at 2215 days, which is approximately 6 years. On average an African fintech takes between 180 to 825 days to raise funding.
For Flutterwave, a summary of funding rounds and other metrics associated with their funding rounds are summarised.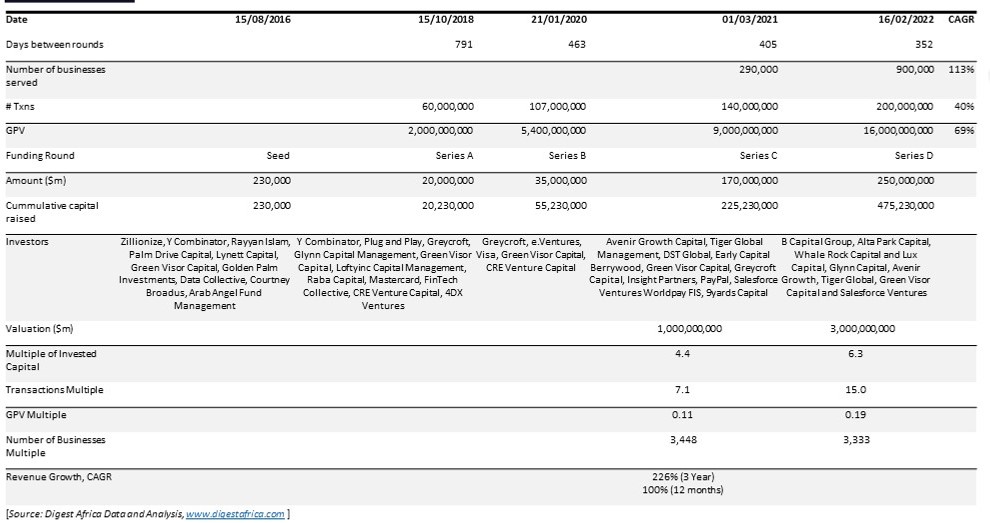 With this knowledge, investors can easily predict which startups to target for investment, alternatively startups can have an indication of how long funding is expected to last between funding rounds and may adjust this depending on the macroeconomic and fundraising environment.
About us
Digest Africa is a leading provider of data and insights on investment into African startups that investors, corporations, researchers, banks, and startups can use to make meaningful decisions. We have a database encompassing;
Over 1,400 venture capital deals for companies raising funding over the past 5 years
More than 3,000 startup company profiles

Over 400 investor profiles
Contact us for custom research and intelligence on the African startup ecosystem and venture capital. Email: info@digestafrica.com, Twitter: @digestafrica