Startups across the African continent raised $410m across 47 deals in the first month of 2022 building on the momentum last year in which African startups raised close to $5bn in the whole of 2021. The $410m raised in January is a 28% month-over-month growth while it is almost $300m more than the $153m raised in the same month last year and the highest raised in January since 2018.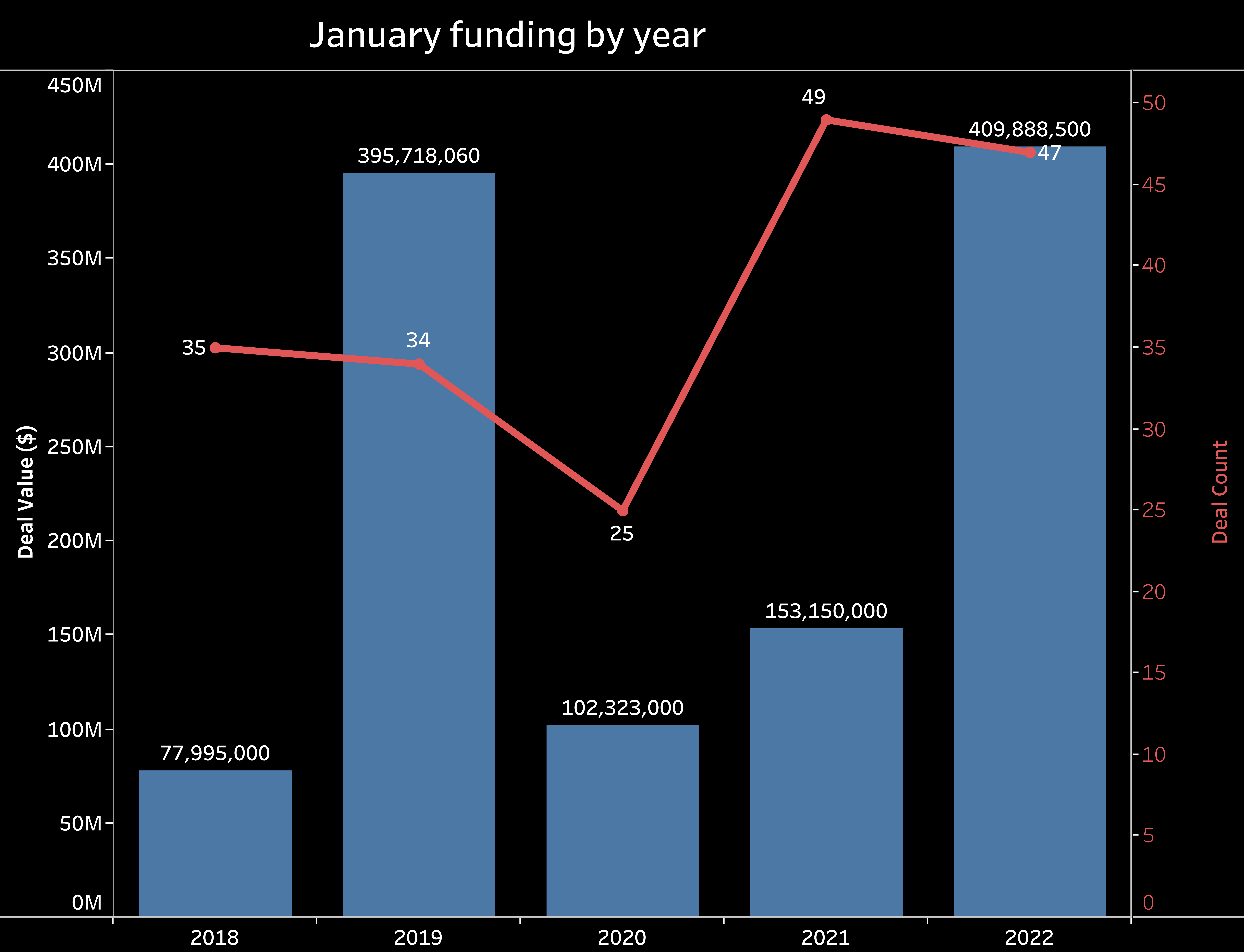 For the first time, Tunisia received the lion's share of investment in January receiving $100m, all raised by Instadeep in its Series B. Kenya followed with $96m, South Africa with $54m and Nigeria in fourth with just $41m in what is a slow start for a country that amassed over $1bn in venture capital in 2021 alone.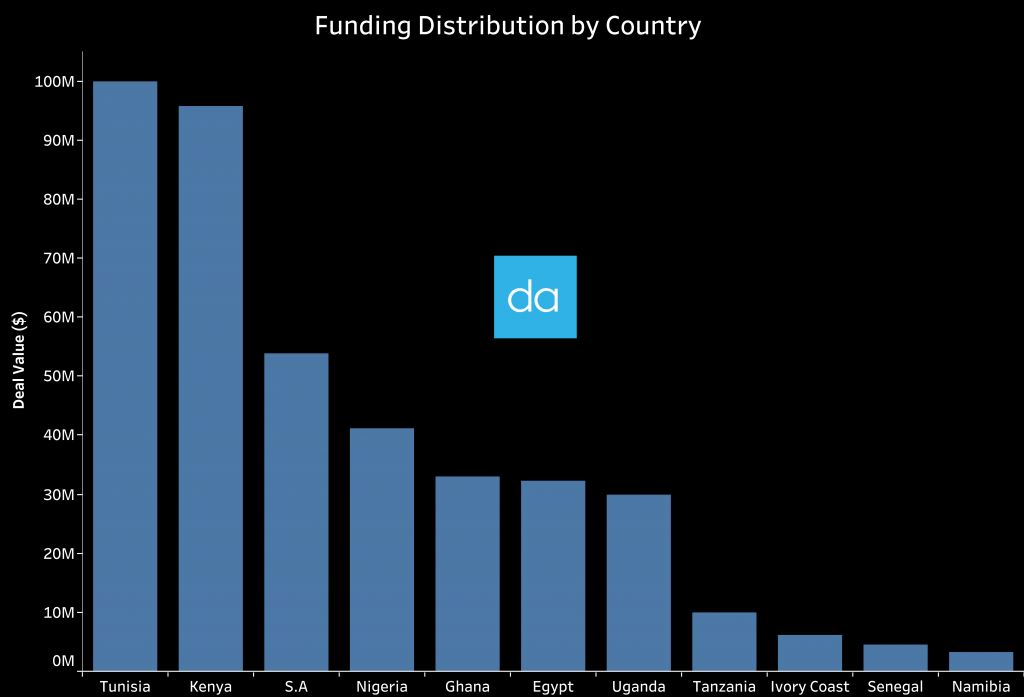 But it still attracted the most deals with 10, the same as Egypt. South Africa with 8 and Kenya with 7 followed closely. Series B, powered by that Instadeep deal, raised the most money with $100m. Pre-series A came second with $80m while Series C and Series A raised $78m and $58m respectively. 
Information Technology ($113m)  toppled Financial Services ($108m) for the most funded sector. E-commerce and Retail ($69m), Transport and Logistics ($38m) and Healthcare and Pharmaceuticals ($31m) were the only other sectors to cross the $30m mark. Startups with at least 1 female member on the founding team raised just 25% of all funding which is an increase of just 2% from December 2021, but a decrease from the 36% realised in January 2021.
The Five Biggest Funding Rounds of January 2022
1. Instadeep ($100m, Series B)
Tunisian AI startup, Instadeep caused shockwaves when it raised $100m in what was a huge coup for North African startups outside of Egypt. Founded in 2014 by Karim Beguir and Zohra Salim, the startup builds AI and machine learning that solves an array of problems. 
Investors in this funding round include BioNTech, Chimera Abu Dhabi, DB Digital Ventures, Google, G42 and Synergie. It will use the money to accelerate the launch of its disruptive AI products across biotech, logistics, transportation and electronics manufacturing as well as expand to the US and hire more talent.
2.Copia Global ($50m,Series C)
Copia Global is a Kenyan B2C startup that has a consumer catalogue order and delivery system for non-perishable and durable goods serving people in rural areas. It has 1.4m unique customers that are doubling each year. They deliver products to thousands of customers daily and has fulfilled more than $10m to date. 
It raised a $50m Series C taking its total funding to $83.5m. Investors in this round were Goodwell Investments, Zebu Investments Partners, the United States International Development Finance Corporation, Koa Labs, Lightrock and Perivoli Innovations. It will use this money to expand its model across East Africa mainly in Kenya and Uganda with Rwanda and Tanzania targeted in the future. 
3. Asaak ($30m, Pre-Series A)
Asaak is a Ugandan asset financing startup. It has developed a revolutionary mobile-based system to offer financial products that anyone can access anywhere. It provides motorbike financing to operators with requirements such as income history and regular account activity. 
Apart from motorbike financing, it also helps motorbike operators own smartphones through a partnership with Samsung and fuel financing to the operators. Its $30m Pre-Series A is arguably the largest financing round raised by a Ugandan startup. Investors in this round include Resolute Ventures, Social Capital, HOF Capital, Founders Factory Africa, End Poverty Make Trillions and Decentralized VC among others. It plans to use the money to expand into 6 new markets. 
mPharma( $30m, Series D)
Ghanaian startup, mPharma, has a mission to increase patient access to high-quality medication. It does this through building a network of community pharmacies called Mutti, across Africa. It is currently the go-to primary healthcare service provider for 4m people residing in Africa. 
The Mutti pharmacies are like mini-hospitals offering a wide range of services like medical consultation, diagnostics and telehealth services. It raised a $30m Series D to grow these pharmacies, build its tech infrastructure and hire key professionals like nurses and doctors. Investors in this round included JAM Fund, Unbound Ventures, Lux Capital, Northstar Ventures, Social Capital, Novastar Ventures and TO Ventures. 
5. Poa Internet ($28m, Series C)
Poa Internet provides affordable wireless broadband to low income and rural communities in Kenya through laying its fibre network in neighbourhoods that are typically not the 1st target market in neighbourhoods that are not a priority for its competitors like Safaricom Home, Faiba and Zuku. 
It currently serves 12,000 customers. It also has tens of thousands of users through its street Wi-Fi connections. Its monthly charge is about $39 which is half the cost of its competitors and offers speeds of 4mbps which is enough to stream videos. It raised a $28m Series C from Africa50 and Novastar Ventures. It will use this funding to grow its reach across Kenya and other African countries. 
Subscribe to any of our annual packages on our website. You can also purchase reports and data behind this article  directly from our website
To share with us a press release or fundraise or for customised data and analytics, we urge you to complete and or claim your company profile on our website and reach out to us at info@digestafrica.com