At Digest Africa, one of the most common questions that we are asked is, "What are the most funded startups in Africa?" Before we dive into the most funded startups, we need to understand why this question would be popular. For starters, startups are companies that are built to grow fast. And to achieve this growth, they raise funding from investors who get equity in return. This funding enables the startups to grow at the speed they want, rather than bootstrapping. For example, a startup could be making losses every year, but funding would enable it to expand into new markets, make key hires and refine its product. 
But do not be deceived by all the funding announcements that you read on an almost daily basis. Raising funding is actually the exception, not the norm for most startups. Per the Harvard Business Review, only 1% of startups are funded. 
So the startups that have managed to raise more funding than others have attained some level of success, at least from a funding perspective. Also, understanding which startups have raised the most funding is an insight into the sectors and countries that are attracting investors, even though other factors like investor biases come into play here as we will find out. 
We are the best organisation to answer that question, because we have collected funding data from as far back as 2015, even though some deals recorded may pre-date our existence. So for the first time ever, we have come up with a compiled list to answer this question. To understand how we came up with this list, how we track our data and what an African startup is, please refer to our methodology here. 
The deals included on our list are those that the startups publicly reveal to the media or some that investors/founders privately reveal. We do our due diligence to confirm the latter deals. We track all deals, and we do not have a threshold ( for example only deals above $100,000). We have deals as low as $25,000 that are recorded in nascent startup ecosystems also included on our list of deals. 
So what did we discover?
The 100 most funded African startups have raised $10bn across 436 deals, an average of $23m per deal. This is laughable in comparison to the USA where the most funded startup, California-based e-cigarette company JUUL Labs, has raised $15bn alone in disclosed funding. 
However, the USA's startup ecosystem is one of the most mature startup ecosystems and the comparison may not be fair. But Grab, the super app from Singapore has raised $9bn alone, while its main rival, Gojek from Indonesia has raised $4.7bn. The two Asian giants have raised more funding ($13.7bn) than the top 100 most-funded African startups. An argument can be raised that African startups are not raising enough funding, but this could change as the ecosystem continues to mature. 
The earliest funding round raised by any startup in the top 100 was by Clickatell, which raised a $6m Series A on 1st October 2006 from the storied California VC Firm, Sequoia Capital. The latest deal was by Egyptian fintech, Telda, which raised a $20m Series A on 12th October 2022 which pushed its total funding to $25m, enough to squeeze into the top 100 at 96. 
A total of 13 African countries are represented, with Nigeria (27) and Kenya (23), accounting for half of these startups. The other two members of the big 4, South Africa and Egypt are represented by 34 startups, which means the big 4 represent 84% of the 100 startups.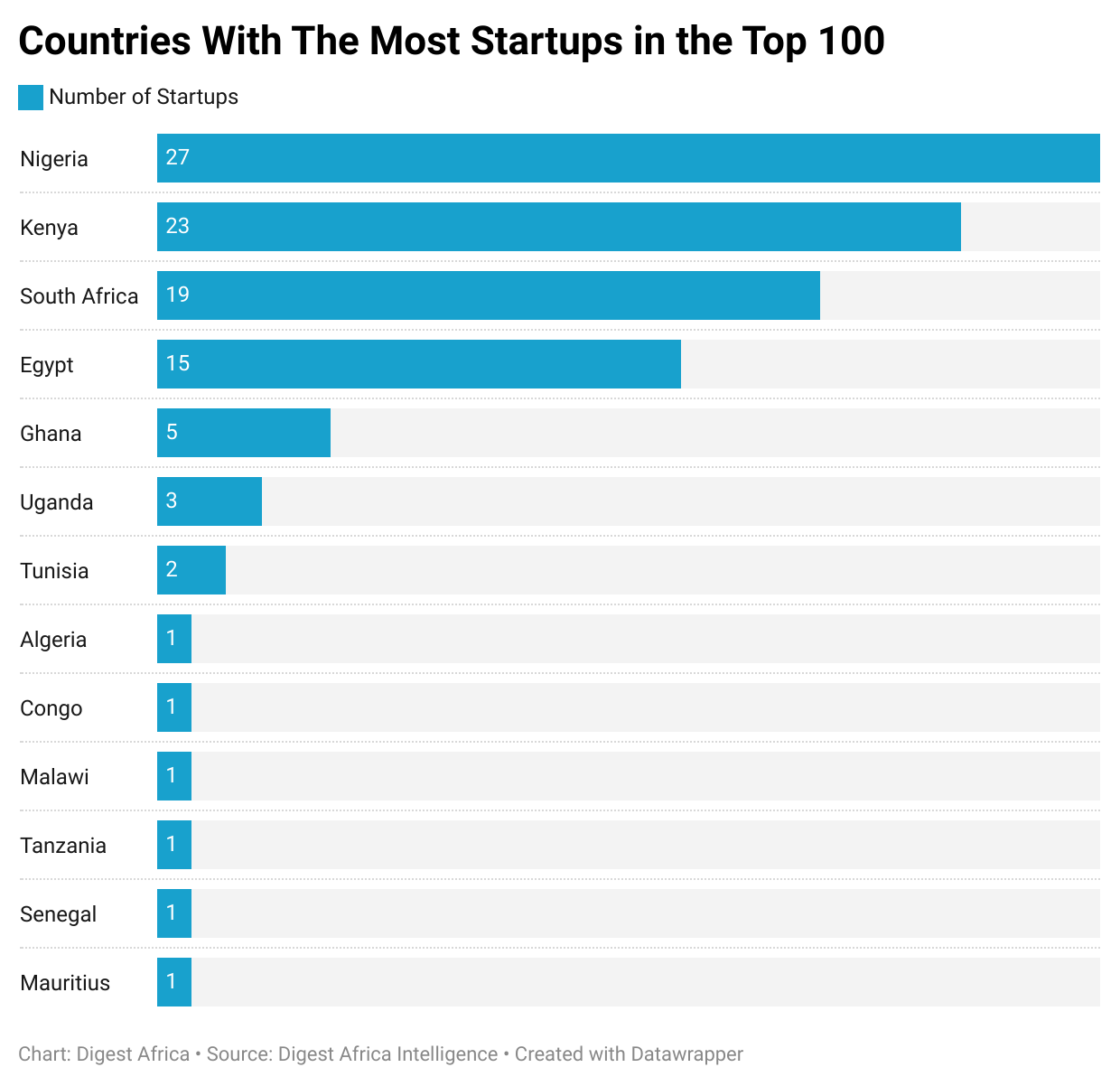 On a sector basis, 36 startups were fintechs, which is more than twice the next sector, Energy and Environment Resources. In total, 14 sectors were represented in the top 100.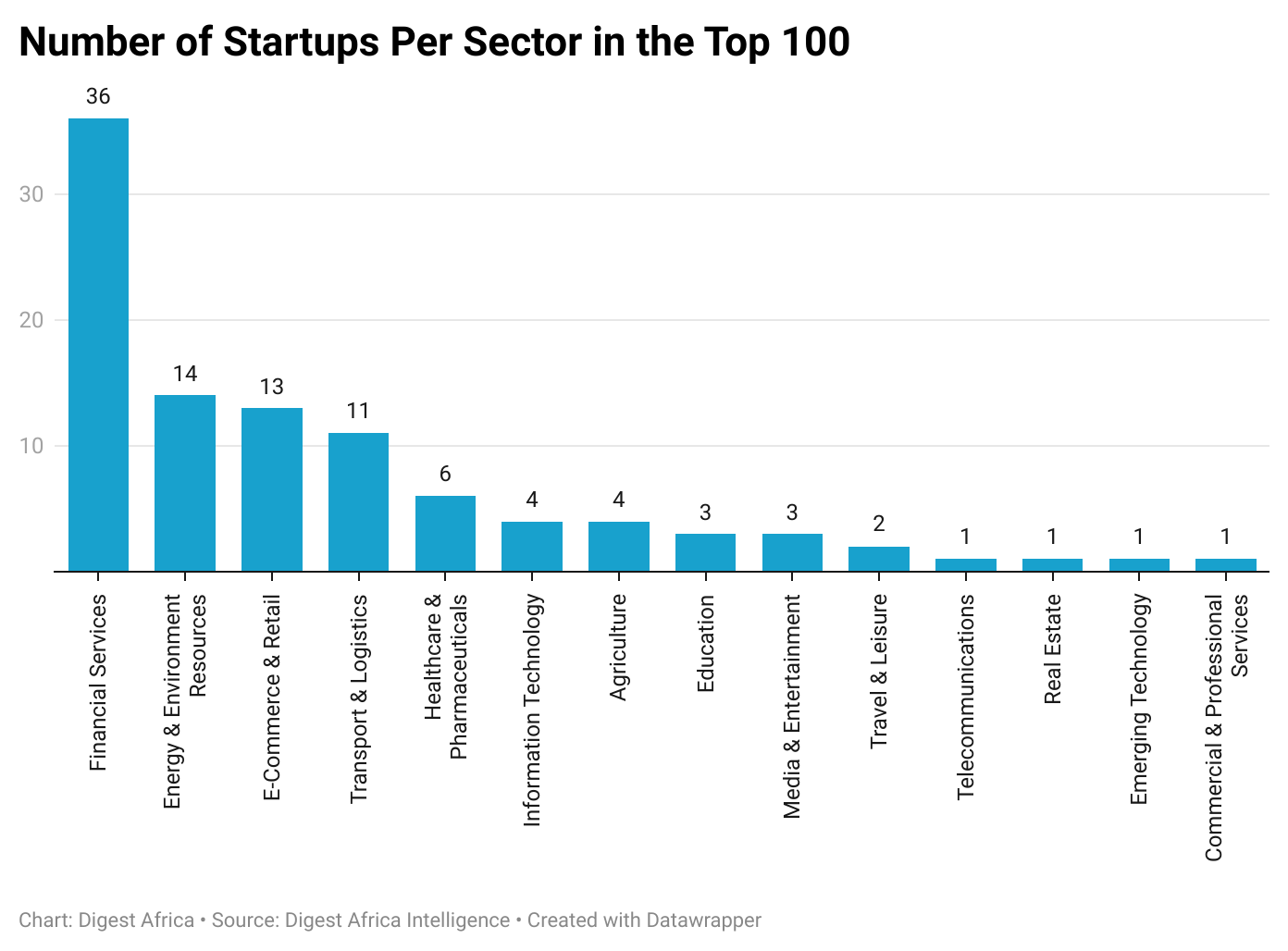 The startups in the top 100 needed 4 funding rounds on average to raise their total funding. The solar startup, d.light raised the most funding with 18, followed by Twiga, M-Kopa and Zola Electric. A total of 12 startups needed just a solitary funding round to feature in our top 100. The highest-ranked of these startups is Kenya's Gro Intelligence (31st) which raised $85m for its Series B.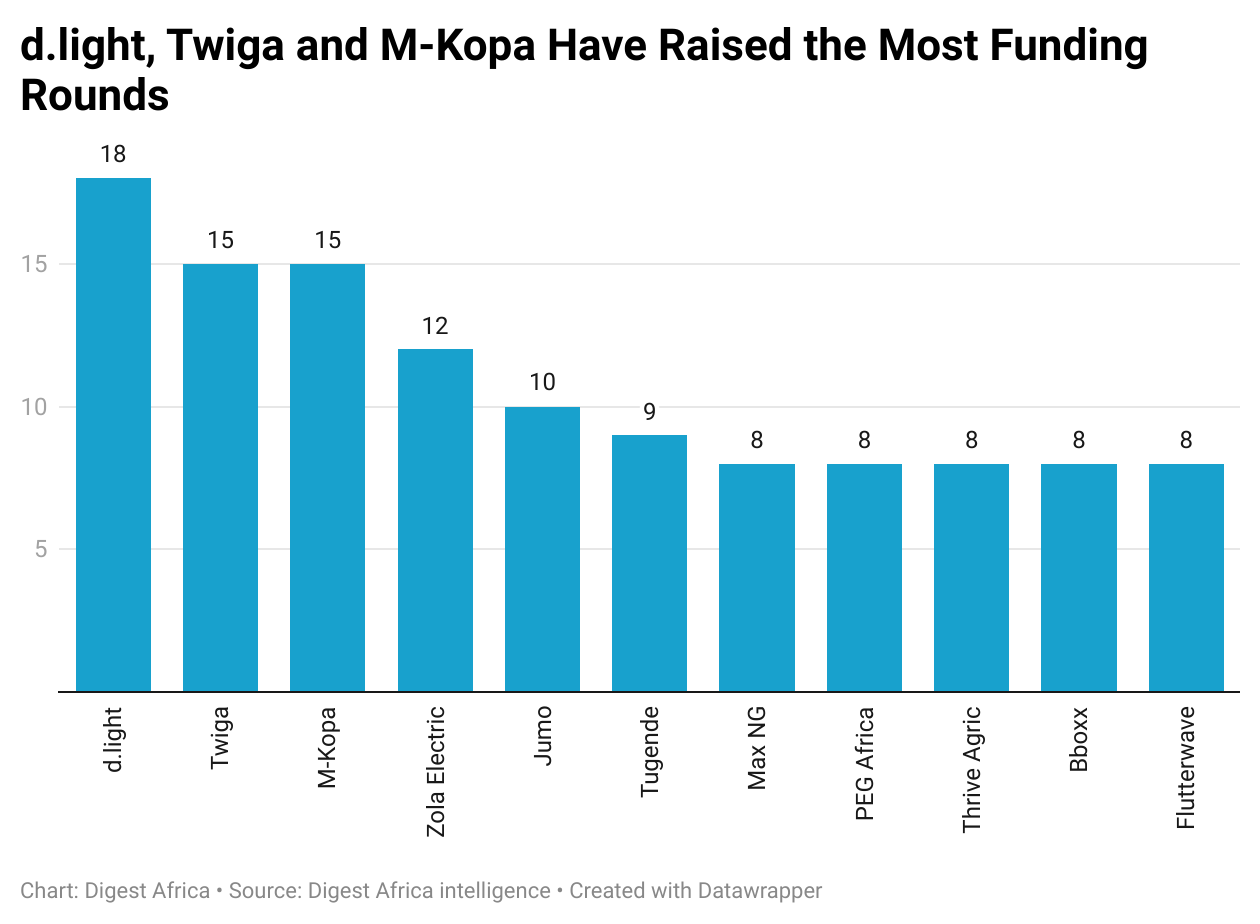 Of the 100 startups, 67 have been founded by a foreign founder. In this context, a foreign founder does not refer to just expatriates but to also founders that attained their tertiary education in the West at least from the undergraduate level. The local founders who accounted for just 26 startups are those that attained their education in an African country. The founders of 7 startups were not included in this study.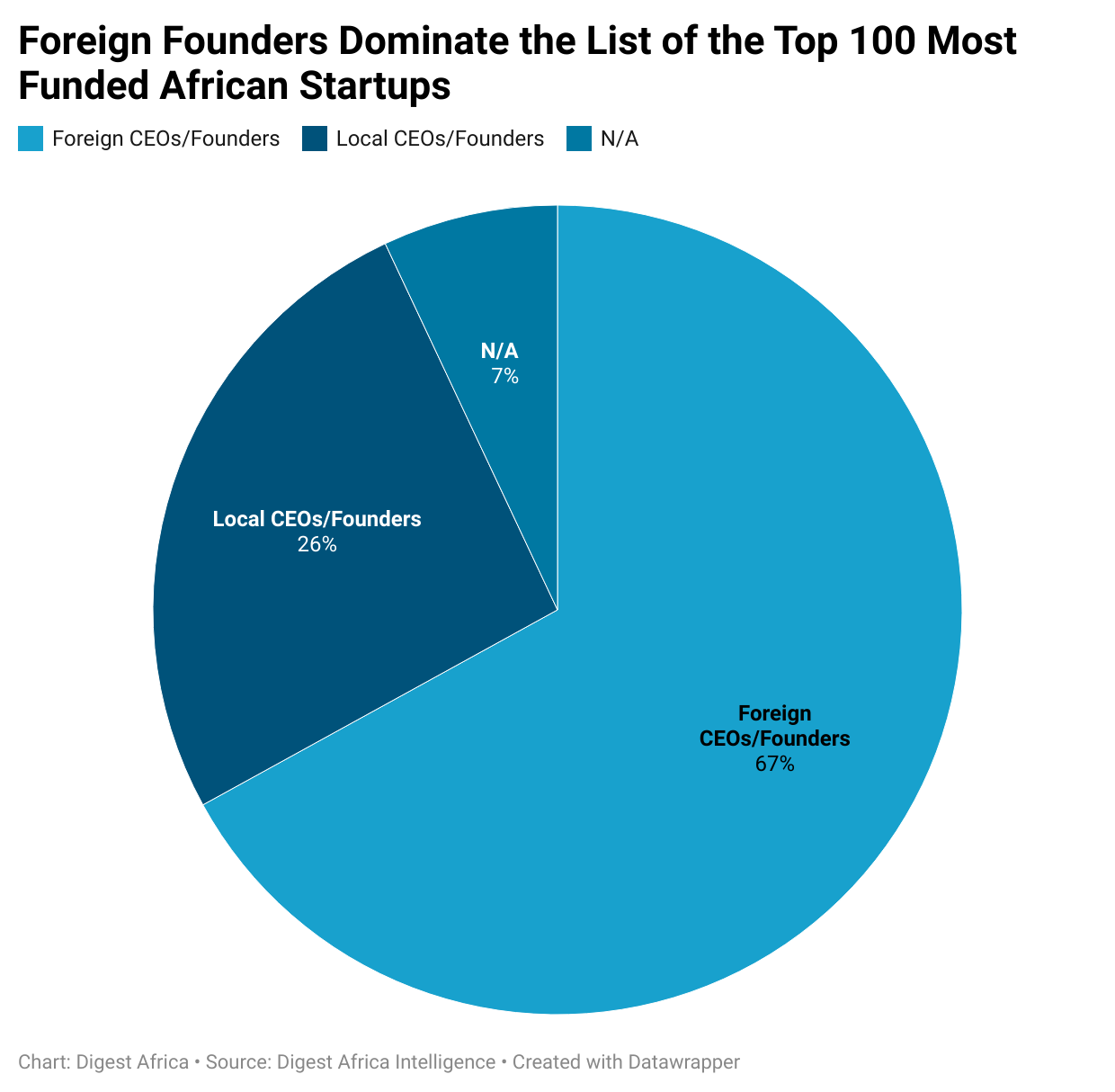 Whereas this could easily be interpreted as discrimination against local founders, some dynamics come into play. The average total funding raised by startups on this list is $100m. This is out of reach for most local founders because the African ecosystems are immature and VC as an asset class is relatively unknown and therefore does not attract as much capital in Africa as it does in other jurisdictions for example North America and Europe. What this means is that any founder looking to raise big funding rounds will have to look at VC firms in the USA and Europe, which puts the local founders at a disadvantage as we are going to learn later on. 
Due to the risky nature of startups, where Forbes estimates that 90% of startups fail, investors develop biases to maximize returns. One of these biases includes similarity bias where investor decisions are influenced by a founder's education and work experience. Founders that have gone to similar schools and have similar background experiences benefit from such biases that is if an investor worked at Goldman Sachs and went to Stanford, they will be biased to invest in founders with similar backgrounds, for example, an investor with an office in New York will find investing in a founder who went to New York University more appealing than one who went to Makerere University in Uganda. 
In the same vein, startups with at least one female founder fared even worse than the local founders despite research from the Boston Consulting Group showing that startups with at least one female founder deliver more than twice as much per dollar invested than those founded by an all-male team. The University of California, Santa Barbra (UCSB) professor, Sarah Thebaud has examined gender bias in entrepreneurship and in an interview with TechCrunch, revealed that "people are likely to systematically discount the competence of female entrepreneurs and the investment-worthiness of their enterprises and the women are rated less-skilled and less competent than the male participants". 
This is evident in Africa. Startups with at least one female founder accounted for only 14% of the top 100 most funded startups with the highest ranked being Andela (5th) which lists Christina Sass, its current president, as one of its founders.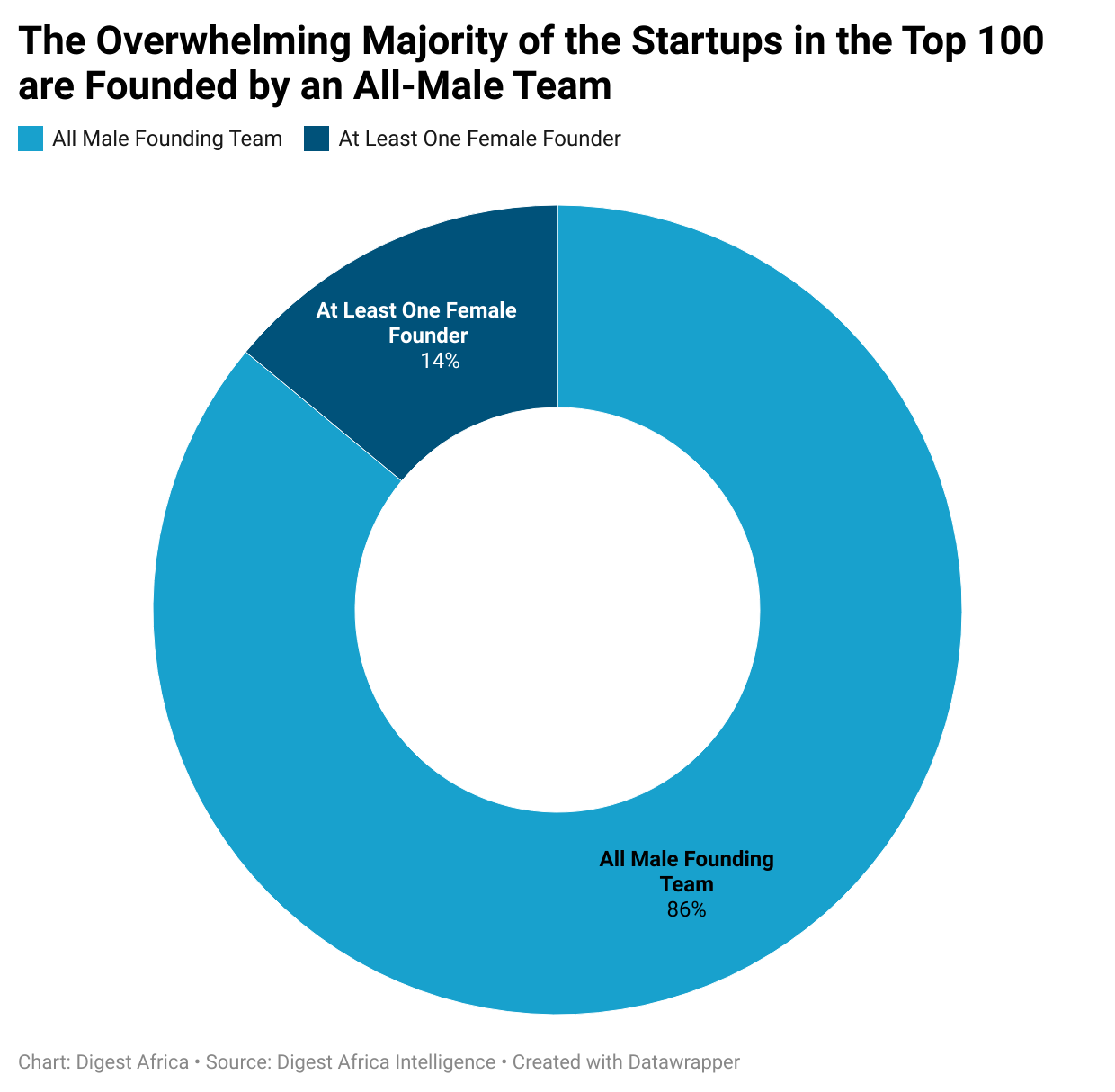 What Are The Most Funded African Startups?
The list is headed by Jumia. Africa's e-commerce giant raised $885m across six funding rounds between January 2012 and April 2019 before it went public on the New York Stock Exchange (NYSE). One of the standout funding round was a $400m Series C in March 2016 from Rocket Internet, MTN Group, Orange, Goldman Sachs, CDC Group and AXA Group.
The top 10 include 5 Nigerian startups (Jumia, Opay, Flutterwave, Andela and Interswitch). The other five startups are from Kenya, Senegal, South Africa, Uganda and Tanzania. Egypt, which has 15 startups in the top 100, doesn't have any in the top 10. The highest-ranked Egyptian startup is MNT Halan at 19th ($127m in total funding).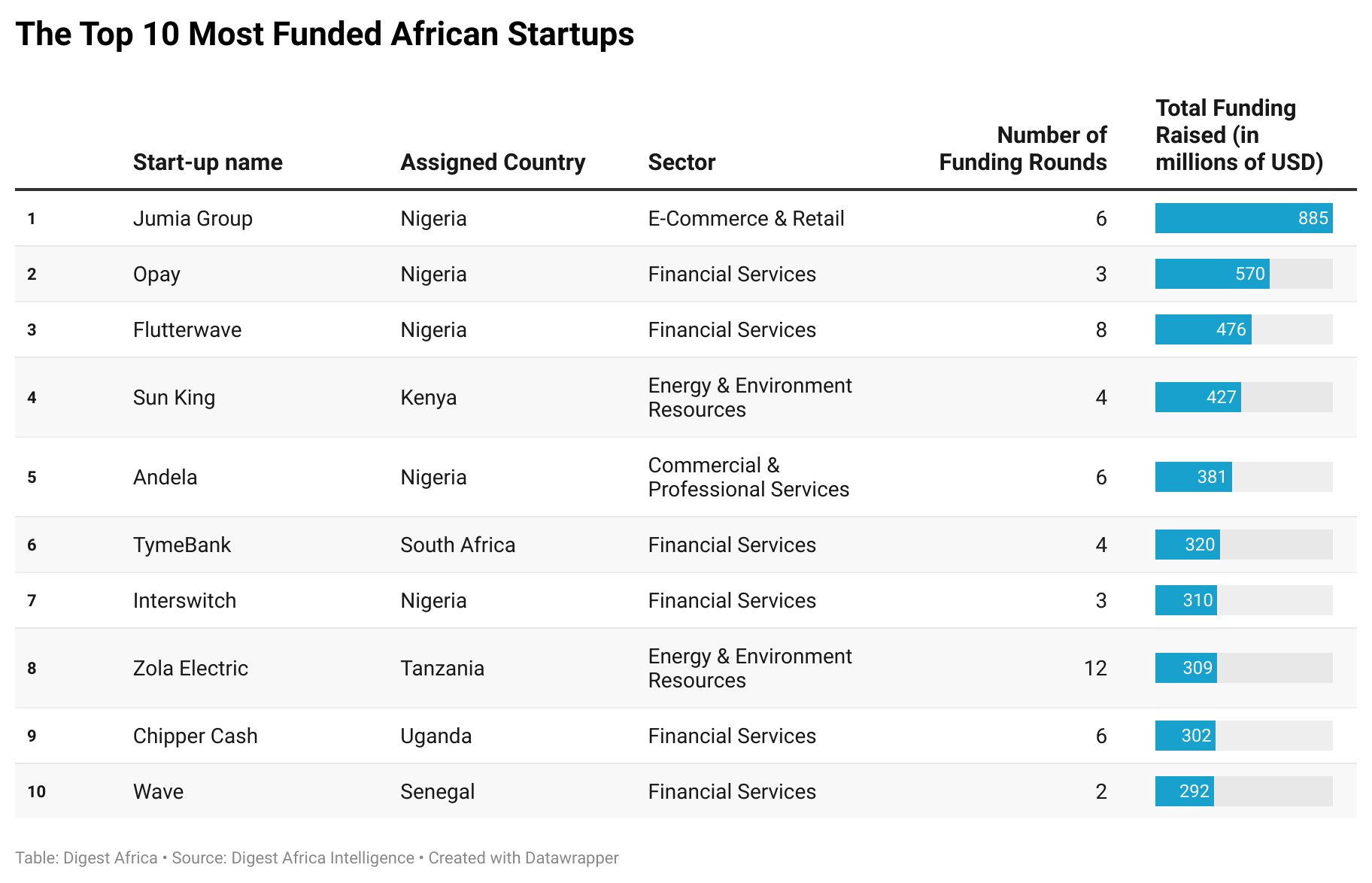 Click here to access the full list
About Us: 
Digest Africa is a leading provider of data and insights on investment into African startups that investors, corporations, researchers, banks, and startups can use to make meaningful decisions. We have a database encompassing;
Over 3,000 venture capital deals for companies raising funding over the past 6 years
More than 5,000 startup company profiles
Over 500 investor profiles
  Contact us for custom research and intelligence on the African startup ecosystem and venture capital. Email: info@digestafrica.com