African startups raised $182.7m in Week 45 of 2022, which is the most funding raised in a single week since the first half of the year. The majority of this funding was raised by Algerian super app, Yassir which raked in $150m for its Series B.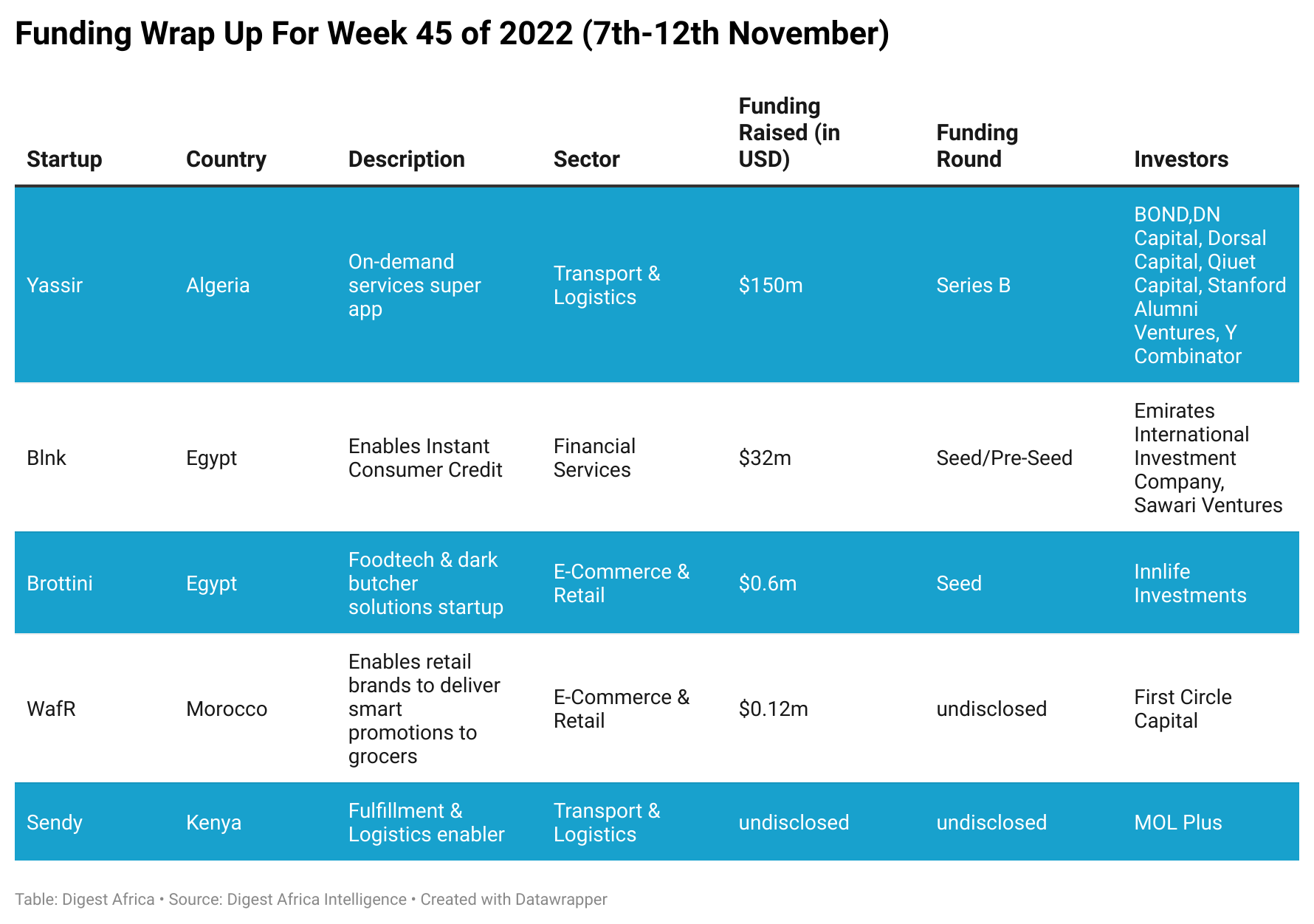 Yassir joins Instadeep, Flutterwave, Wasoko, and Sun King as the only startups that have managed to raise a mega round (a funding round of at least $100m) in 2022. This is a fall of 50% from 2021 when 10 mega-rounds were raised. Egyptian consumer credit fintech, Blnk also contributed $32m to the total funding in Week 45. 
Funding Deals of the Week
Yassir ($150m, Series B)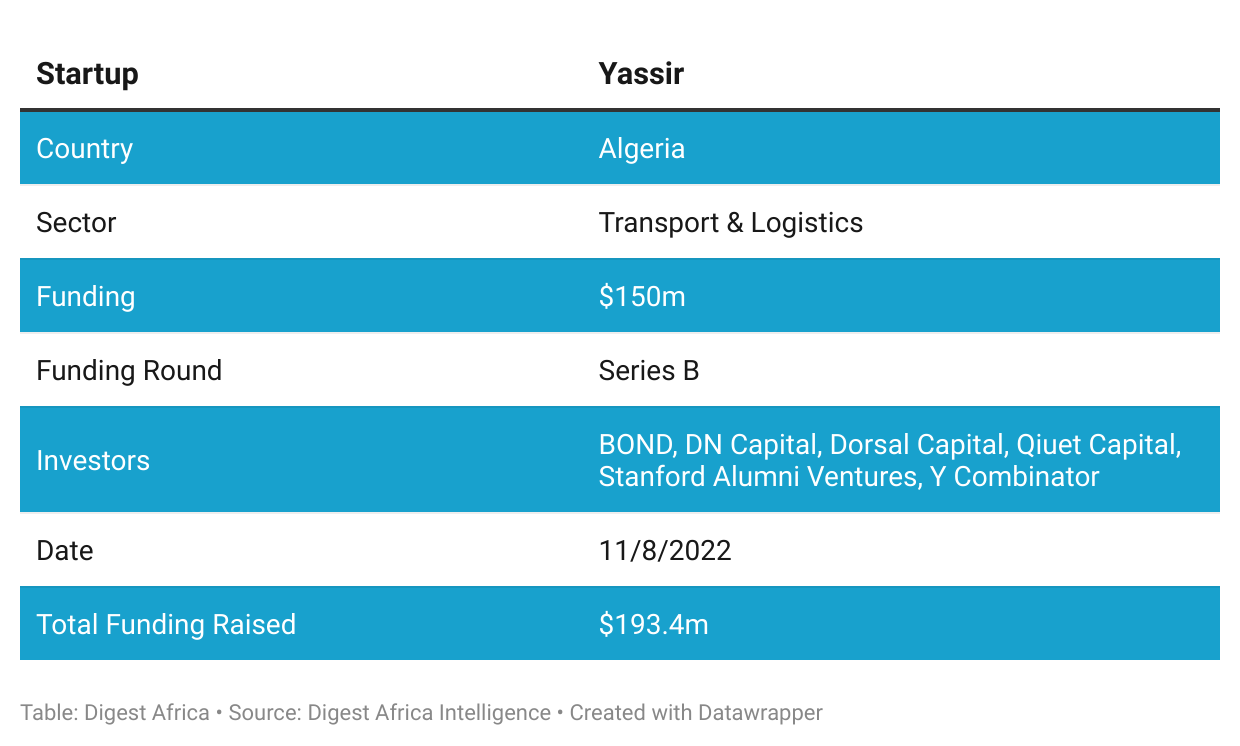 2022 has been a challenging year in venture capital. The economic downturn and the Russia-Ukraine war have seen investors tighten their purses after a historic bull run. Africa has been affected as well, with Q3  seeing the lowest funding in five quarters. 
So it was a welcome relief with Yassir raising a $150m Series B from BOND, DN Capital, Dorsal Capital, Quiet Capital, Stanford Alumni Ventures, and Y Combinator through its Continuity Fund. This funding makes Yassir one of Africa's most funded and valuable startups. 
The Algerian super app was founded in 2016 by Noureddine Tayebi and Mahdi Yettou. Noureddine, the CEO, is a Silicon Valley veteran having spent 15 years there after finishing his Ph.D. at Stanford University. He moved back to Algeria in 2016 to take part in his country's young ecosystem. 
Yassir has different services like ride-hailing, food, and grocery delivery and payments. The app currently has 8m users in Morocco, Algeria, and Tunisia. It also has 100,000 partners that include drivers, couriers, merchants, suppliers, and wholesalers. The startup uses its drivers and couriers as money agents to enable its users to top up or withdraw money from their wallets.
Yassir will use the latest funding to grow its engineering team and expand its services. It will also move into new markets across Africa and the Middle East directly or through acquisitions.  
Blnk ($32m, Pre-seed/Seed)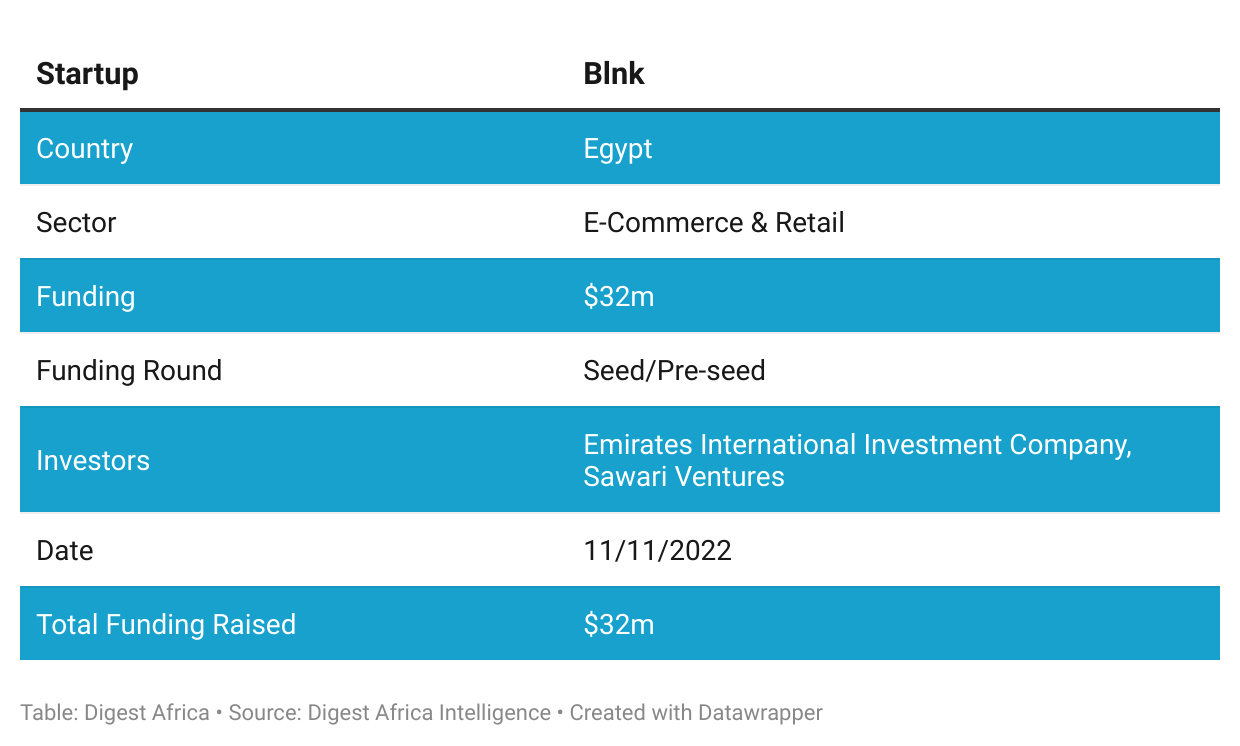 Egyptian startup, Blnk, raised a total of $32m. The deal was structured in different stages and funding types. $12.5m was raised as Pre-seed and seed equity funding from the Emirates International Investment Company, Sawari Ventures, and other investors. $11.2m was debt financing while a further $8.3m was raised as securitized bond issuance. 
Blnk was founded by Amr Sultan and Tarek Elsheikh in October of last year, and it partners with merchants to provide consumer loans for its users. It allows the merchants to underwrite customers at the point of sale. The customers can pay back in installments over a period of 6-36 months. 
The startup has partnered with over 300 merchants and has helped 60,000 customers who pay an average of 2.6% in monthly interest. In an interview with TechCrunch, CEO Amr Sultan claimed the startup has disbursed $20m in loans. 
Blnk will use the funding to accelerate financial inclusion within underserved communities across Egypt and develop its AI-powered lending infrastructure.  It faces competition from other funded Egyptian startups including MNT Halan, MoneyFellows, and Khazna. 
The writer is a retired founder, and now Editor-in-Chief at Digest Africa. You can reach him at +256771162922 or jnlubwama@digestafrica.com
About us
Digest Africa is a leading provider of data and insights on investment into African startups that investors, corporations, researchers, banks, and startups can use to make meaningful decisions. We have a database encompassing;
Over 1,400 venture capital deals for companies raising funding over the past 5 years
More than 3,000 startup company profiles
Over 400 investor profiles
Contact us for custom research and intelligence on the African startup ecosystem and venture capital. Email: info@digestafrica.com