It was a slow start to November for African startups in terms of venture capital, as per the deals we tracked for Week 44 of 2022. African startups raised just $34m in disclosed funding, of which $31m was raised by Egyptian fintech Money Fellows. Nigeria's RentSmallSmall raised the other disclosed round.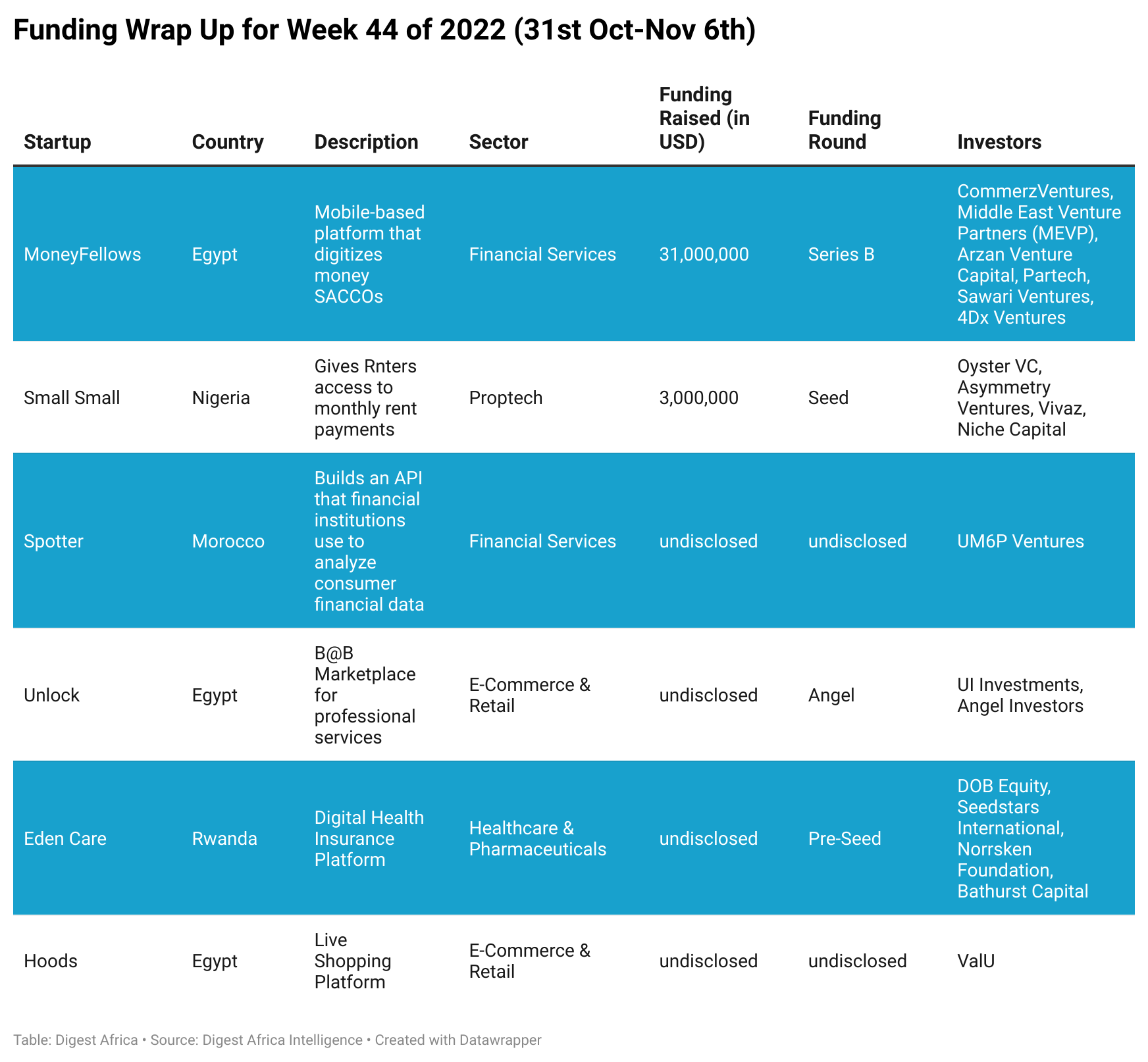 Funding Deal of the Week 1
Egyptian startup Money Fellows has raised a $31m Series B led by CommerzVentures, Middle East Venture Partners (MEVP), and Arzan Venture Capital with other investors involved, including Sawari Ventures, Partech, and 4Dx Ventures. The Egyptian startup has now raised almost $37m and is expected to top up its Series B round in the following months.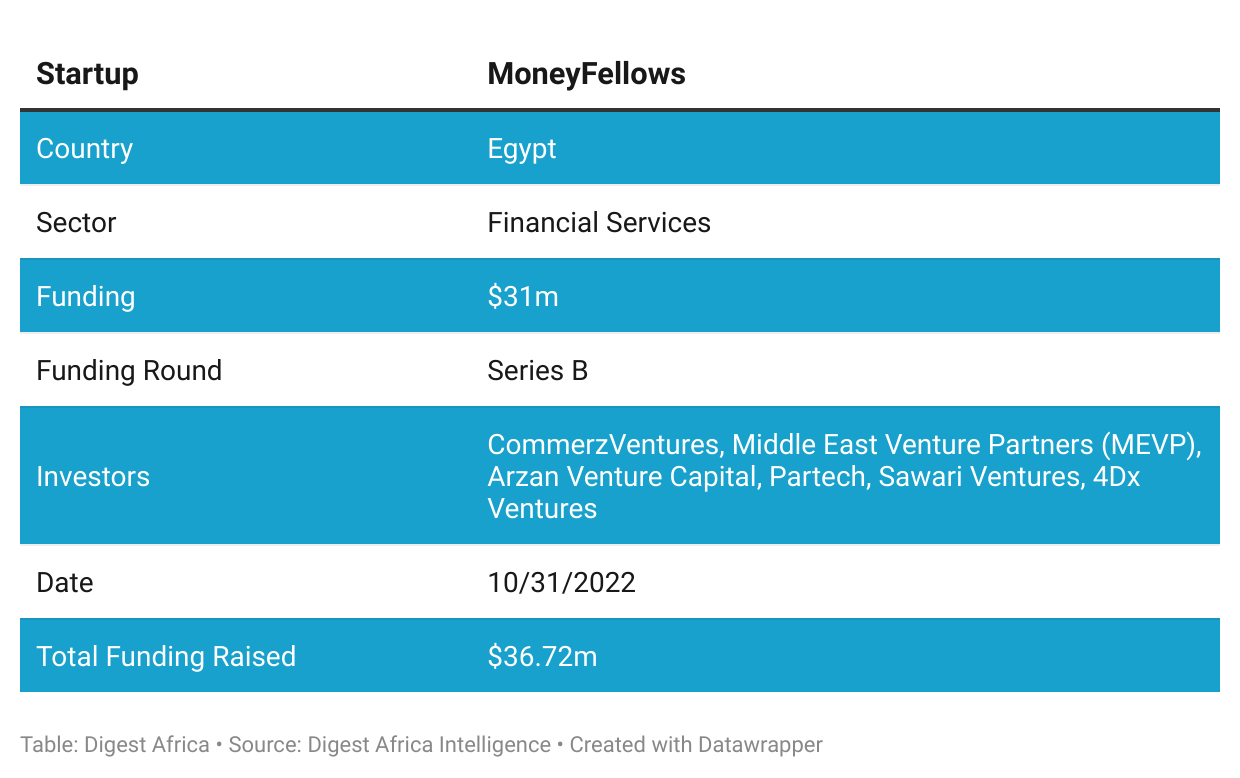 Money Fellows digitizes money circles or Rotating Savings and Credit Associations (ROSCAs). This is a system where a group of people saves money together for an amount of time; for example, 10 people can decide to save $500 a month for 10 months, and thus one group member will receive $5000 (total money saved by the whole group) every month for 10 months.
Money Fellows has 4.5m registered users on its platform, but only 7% are monthly active users. It will use the funding to diversify its services, especially into the B2C and B2B offerings. It will also expand across Africa and Asia.
Funding Deal of the Week 2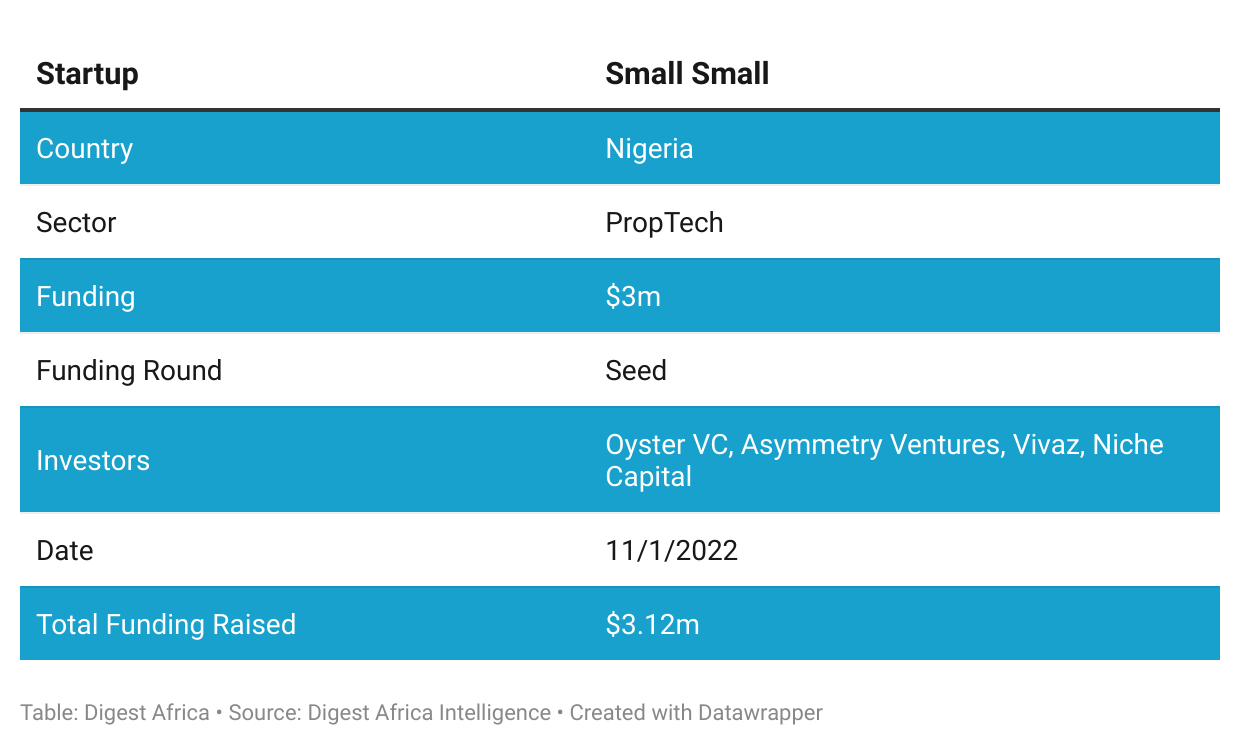 In Nigeria, landlords require tenants to pay a year or two upfront. This has created an opportunity for startups that break down the annual rent fees into monthly payments. One of these startups is RentSmallSmall. 
RentSmallSmall was founded in 2018 by Tunde Balogun, Naomi Olaghere, and Pidah Tnadah after they returned from the UK and couldn't find a house with a monthly rent payment plan. Not only does the startup enable tenants to pay monthly, but it also enables them to build credit when they pay their rent on time and access financing when they come up short. The startup also helps landlords to access quality tenants. 
In an interview with TechCrunch, CEO Balogun revealed that  RentSmallSmall had registered 476,000 people on its platform, with  80,000 on a waiting list and only 1,500 serviced. He also revealed that the company has made $5m in its first three years and turned a profit last year.
The startup has now been flushed with $3m in funding ($2m equity and $1m debt) for its seed round.  The funding will enable RentSmall Small to expand its services to Port Harcourt, Enugu, and Jos next year. Investors in this funding round included Oyster VC, Asymmetry Ventures, Vivaz, and Niche Capital.
About us
Digest Africa is a leading provider of data and insights on investment into African startups that investors, corporations, researchers, banks, and startups can use to make meaningful decisions. We have a database encompassing;
Over 1,400 venture capital deals for companies raising funding over the past 5 years
More than 3,000 startup company profiles
Over 400 investor profiles
 Contact us for custom research and intelligence on the African startup ecosystem and venture capital. Email: info@digestafrica.com