In week 42 of 2022, African startups raised $59m, bringing the funding raised in the first three weeks of October to $104m. Egyptian startups dominated funding in week 42, accounting for 6 of the 11 deals this past week and 82% of the $59m.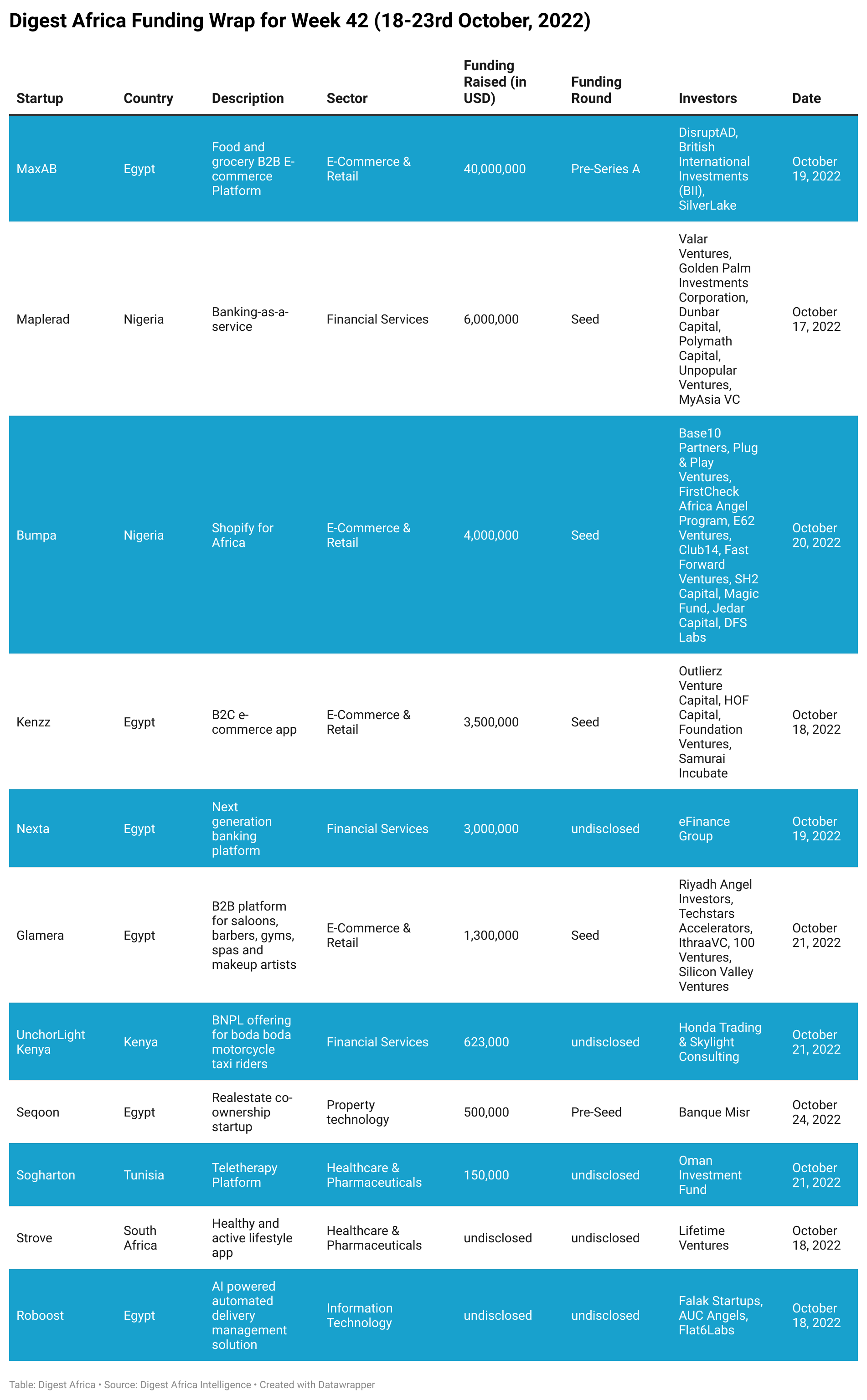 Funding Deals of the Week 1.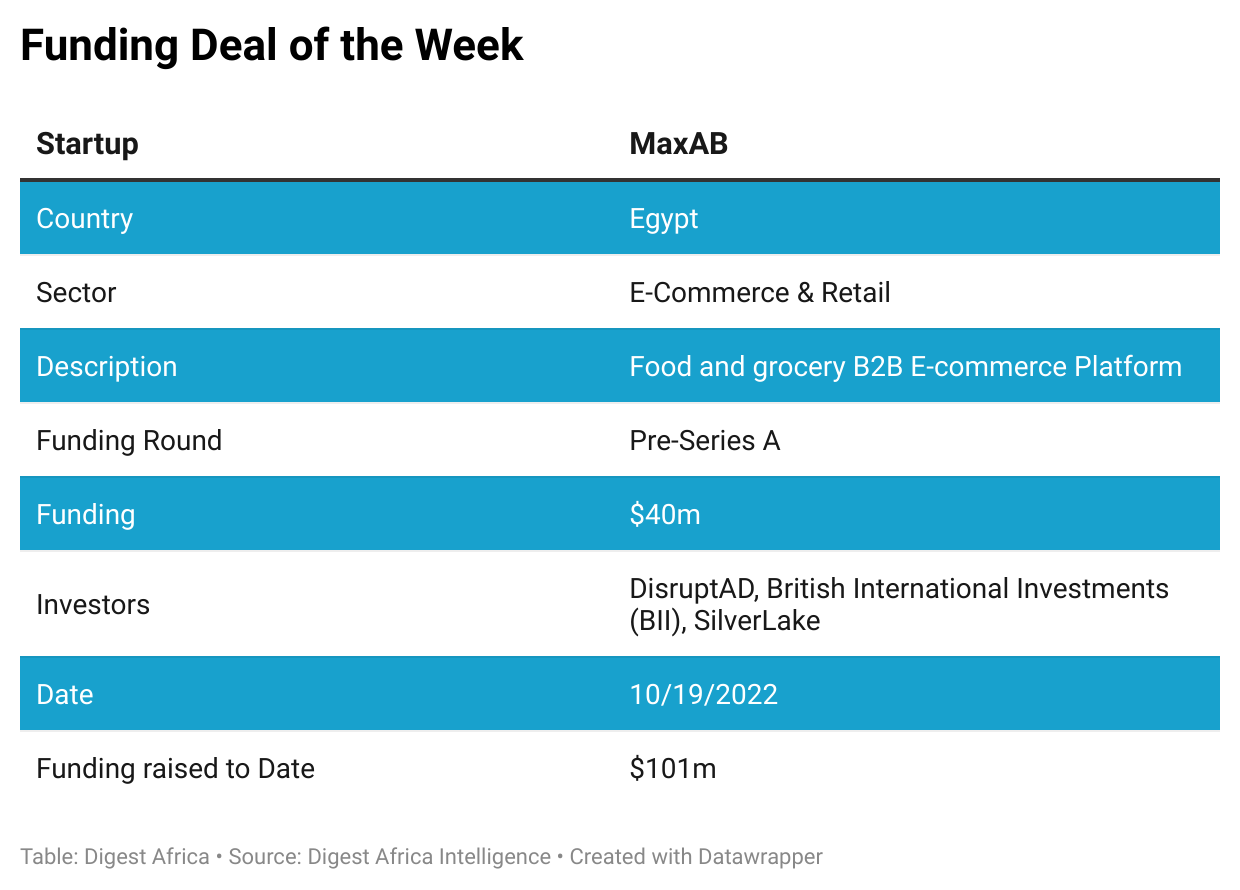 Founded in November 2018, MaxAB is an Egyptian startup that manages a network of traditional food and grocery retailers across Egypt. Store owners can purchase goods and request their delivery. The startup has grown a lot in the last two years to 55,000 merchants and delivers 2,000 unique products as per TechCrunch.
Its $40m funding round, makes MaxAB one of Africa's top 50 funded startups as per our tracker. It has raised a total of $101m across four funding rounds, with the first one coming in September 2019. It was a $6.2m seed round from Beco Capital, 4Dx Ventures, 500 Startups, Endure Capital and Outlierz Ventures.
MaxAB will use its new funding to expand its services across North Africa and the Middle East, increase its 1,600-strong workforce and scale a bunch of newly launched verticals.
Funding Deal of the Week 2.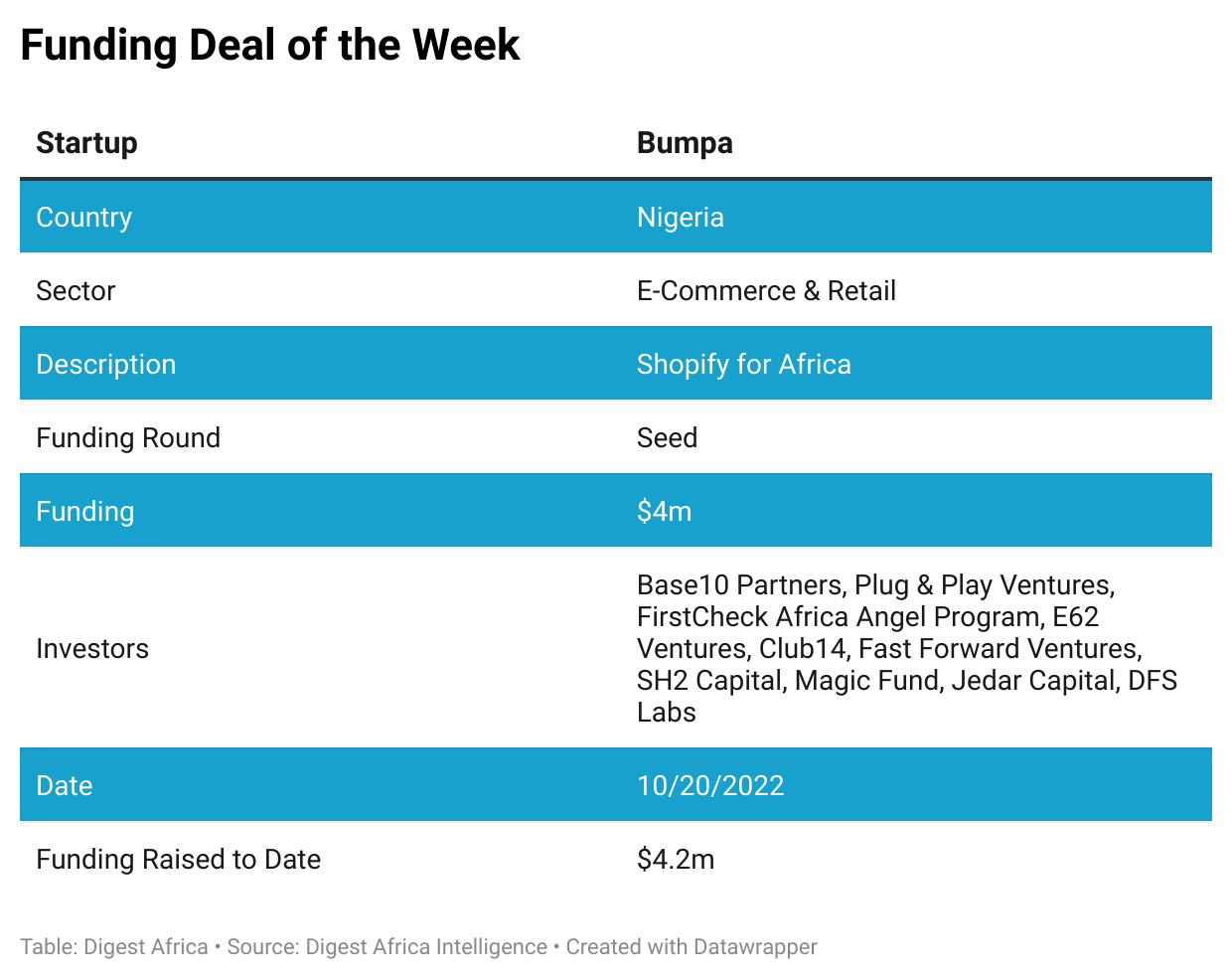 Nigerian social e-commerce startup, Bumpa, (dubbed the Shopify of Africa) has raised a $4 million seed round led by Base10 Partners, with participation from Plug & Play Ventures, SHL Capital, Magic Fund, Jedar Capital, DFS Labs, FirstCheck Africa Angel Program, E62 Ventures, Club 14 and Fast Forward Ventures.
The startup was founded in 2021 by Kelvin Umechukwu and Adetunji Opayele. It helps small business owners to track their inventory, engage with their customers and record their sales across different social media platforms like Facebook, Instagram and Whatsapp.
Bumpa has already secured a partnership with Meta, with Google being the next in line. Bumpa has 50,000 small businesses which have processed 200,000 orders with a gross merchandise value of $20m. It has commission and subscription-based revenue models. Bumpa's previous funding round was a $200,000 pre-seed round in September 2021.
About us
Digest Africa is a leading provider of data and insights on investment into African startups that investors, corporations, researchers, banks, and startups can use to make meaningful decisions. We have a database encompassing;
Over 1,400 venture capital deals for companies raising funding over the past 5 years
More than 3,000 startup company profiles
Over 400 investor profiles
 Contact us for custom research and intelligence on the African startup ecosystem and venture capital. Email: info@digestafrica.com