In week 41 of 2022 (10-15th October), a total of $37.9m was raised across 7 funding deals to bring the total funding raised in the two weeks of October to $45.4m across 15 funding deals. The bulk of the funding (89%) for Week 41 was raised by Telda, an Egyptian fintech.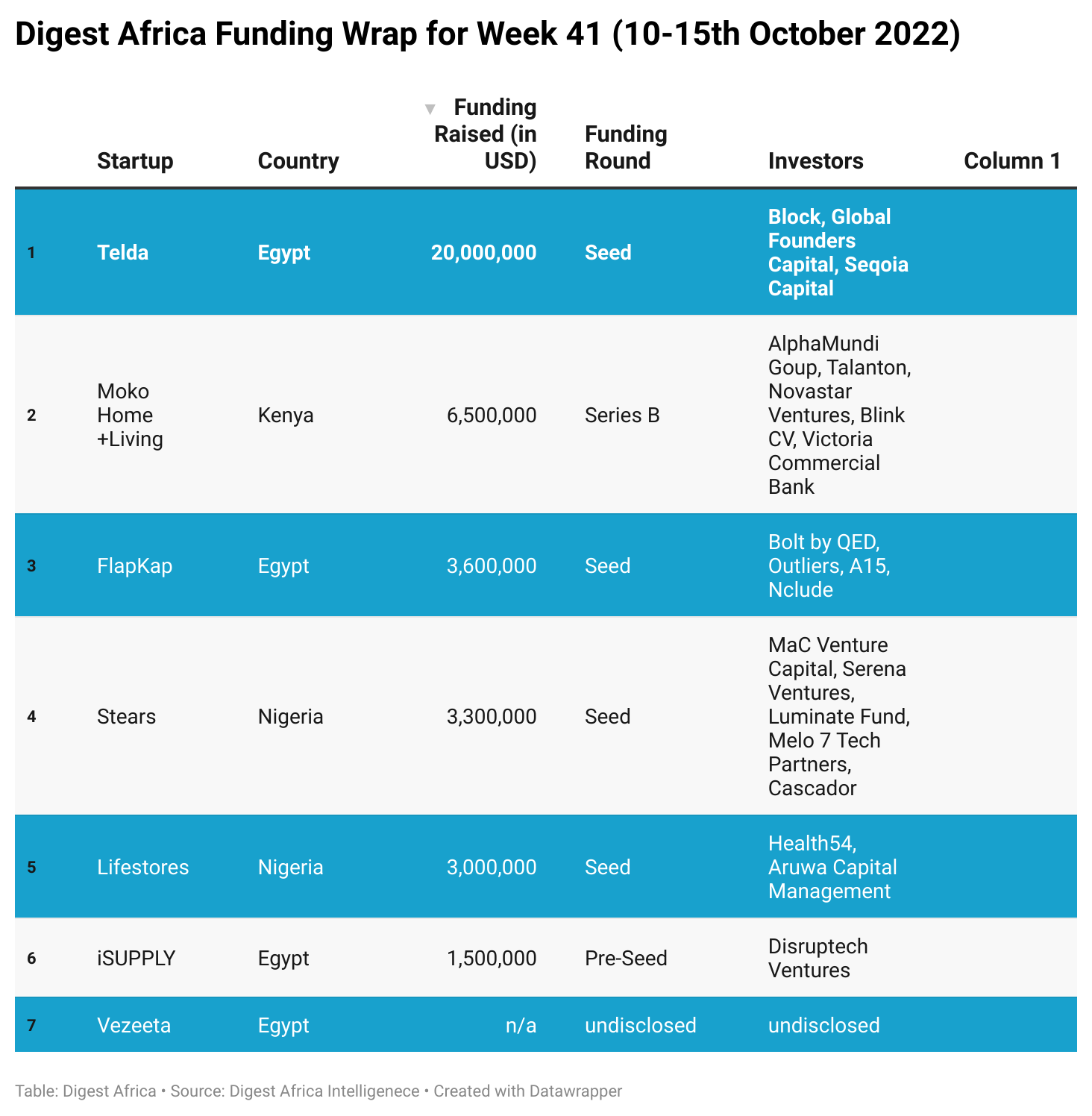 Funding Deals of the Week: Telda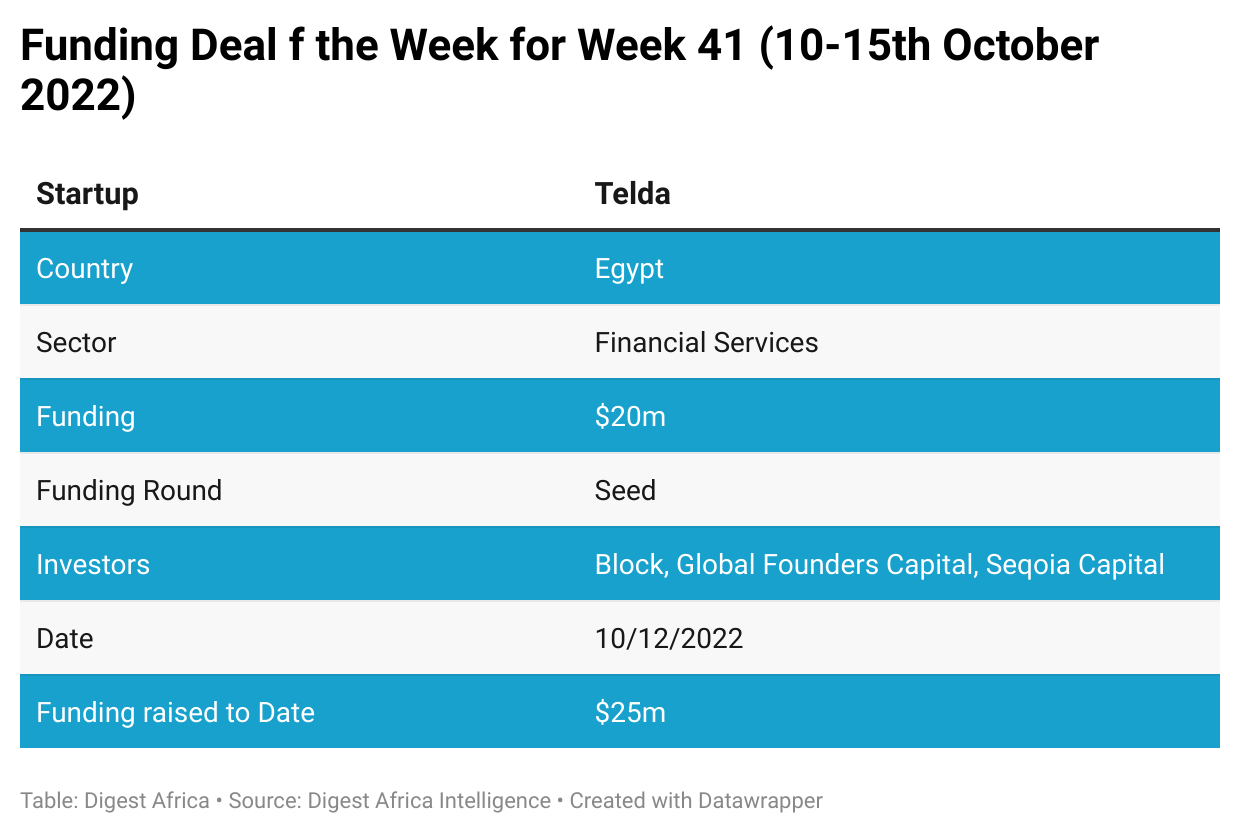 50% of Egypt's 100m people are active smartphone users, but just two-thirds of the population has access to formal financial services. The economy is cash-heavy, with only 4% of its overall GDP cashless. 
Telda, a Fintech founded by the ex-SWVL executive, Ahmed Sabbath is trying to change that. The startup got a license in 2021 from the Central Bank of Egypt to provide Mastercard-powered cards and onboard customers digitally. 
Its mission has now attracted funding, raising a $20m seed round from Sequoia Capital, Global Founders Capital and Block (Formerly Square).  This is the second round of funding that Telda has raised. The first one was a $5m Pre-Seed round in May 2021. 
It will face competition from other venture-backed Fintechs; Khazna ($38m raise in March 2022) and Sympl ($6m raise in December 2021). 
Funding Deal of the Week: Stears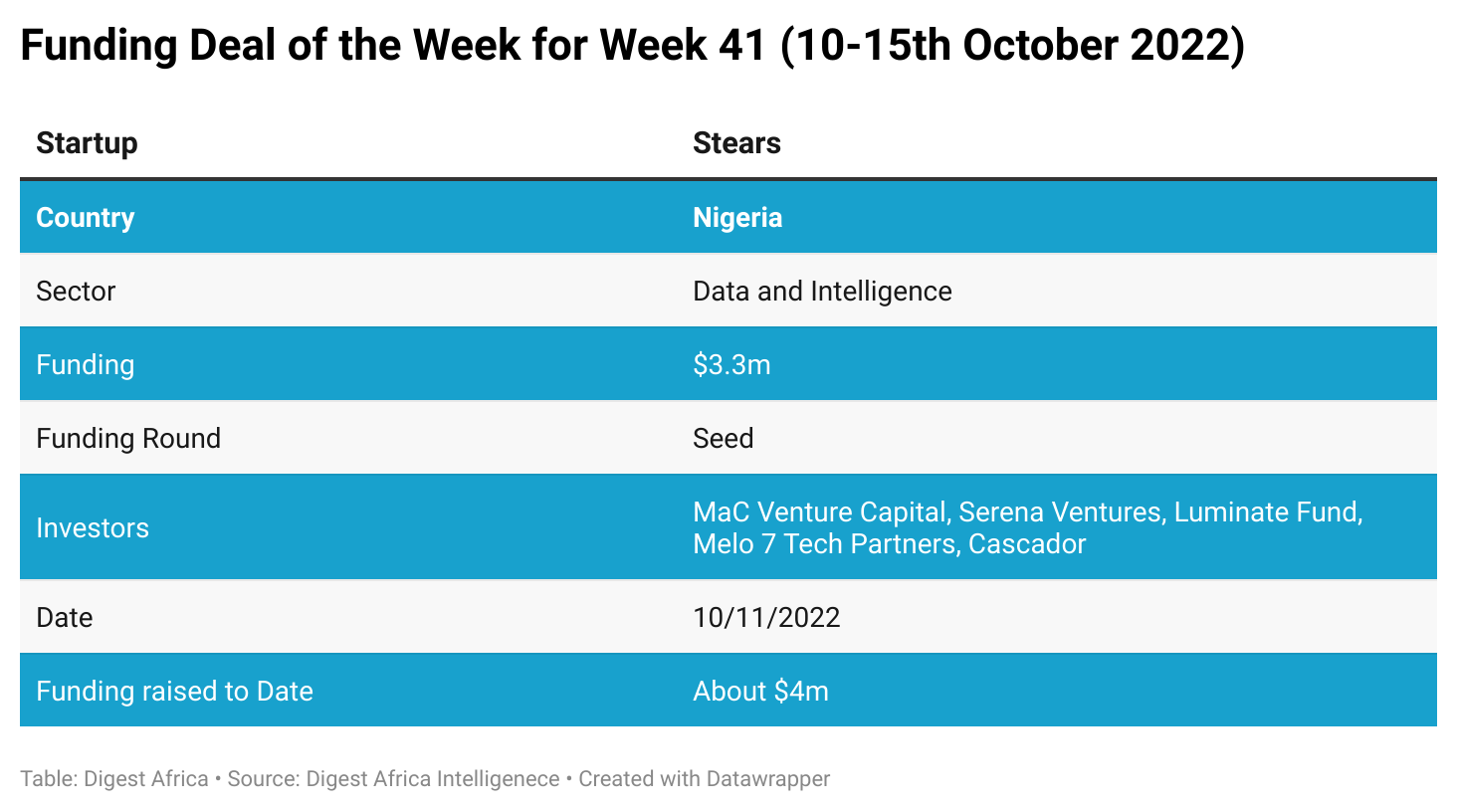 Nigerian data and intelligence startup, Stears, has followed up on its $650,000 Pre-Seed funding in 2020 with a $3.3m seed funding. Stears offers products like Stears Premium, which consists of data-backed articles, analysis and deep dives into the economy, policy and startups in Nigeria. 
However, the startup will pivot to collecting proprietary data about the African continent in its next stage as a company. The seed funding round attracted investors like Serena Ventures, MaC Venture Capital, Melo 7 Tech Partners, Luminate Fund and Cascador. 
Stears will use the funding to bulk up its data collection and analysis and expand to other strategic African markets like Egypt, South Africa and Kenya. 
About us
Digest Africa is a leading provider of data and insights on investment into African startups that investors, corporations, researchers, banks, and startups can use to make meaningful decisions. We have a database encompassing;
Over 1,400 venture capital deals for companies raising funding over the past 5 years
More than 3,000 startup company profiles
Over 400 investor profiles
 Contact us for custom research and intelligence on the African startup ecosystem and venture capital. Email: info@digestafrica.com