In week 40, we recorded 8 funding deals at Digest Africa. The total amount of funding raised was $7.5m in disclosed deals. South African startup Talk360 raised the most funding with a $3m Seed round followed by Nigerian Proptech startup, Spleet which raised a $2.6m Pre-Series A.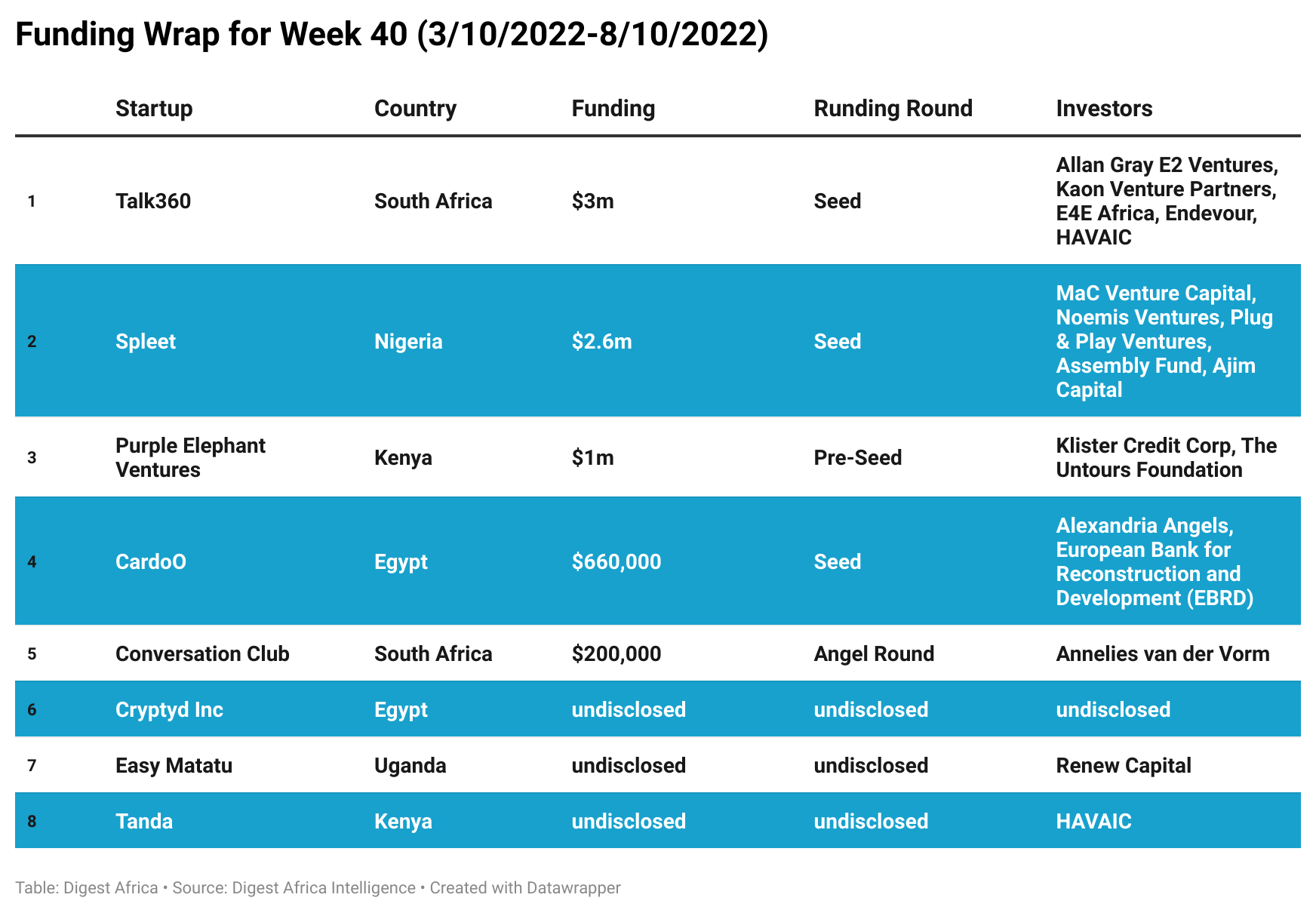 Deals of the Week
House hunting in Nigeria is not for the faint-hearted. Even when one has found a dream house, the rent payment structure is a nightmare. Tenants are expected to pay rent annually, rather than monthly or quarterly before moving in. Landlords have adopted this because monthly payments are unsustainable and it reduces the default rates.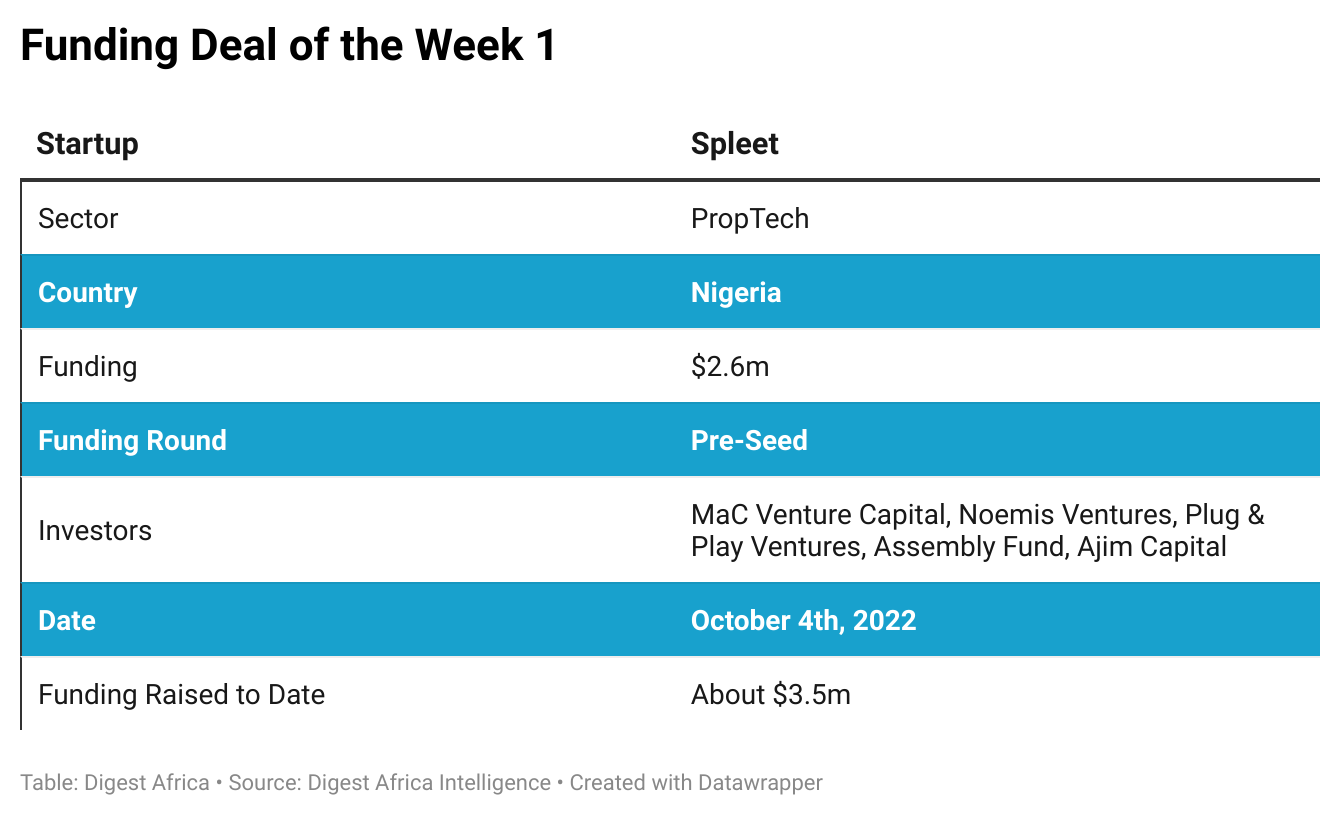 This is where Spleet Africa comes in. Spleet Africa enables tenants to pay rent monthly or quarterly. Spleet partners with landlords, who list properties on their platform and connect them with verified tenants who consistently pay every month.
The startup's vision has attracted a $2.6m pre-seed investment from Los Angeles-based VC firm, MaC Venture Capital. Other investors involved in the deal include Ajim Capital, Noemis Ventures, Plug & Play Ventures and Assembly Fund. Spleet wants to use the funding to scale its products to include a rent financing solution dubbed, Rent Now, Pay Later.
Our second deal of the week was recorded in Nigeria's long-standing economic rival, South Africa by Talk360, a voice-over-Internet Protocol (VoIP) startup. It raised a $3m seed round, to bring its total seed round funding to $7m.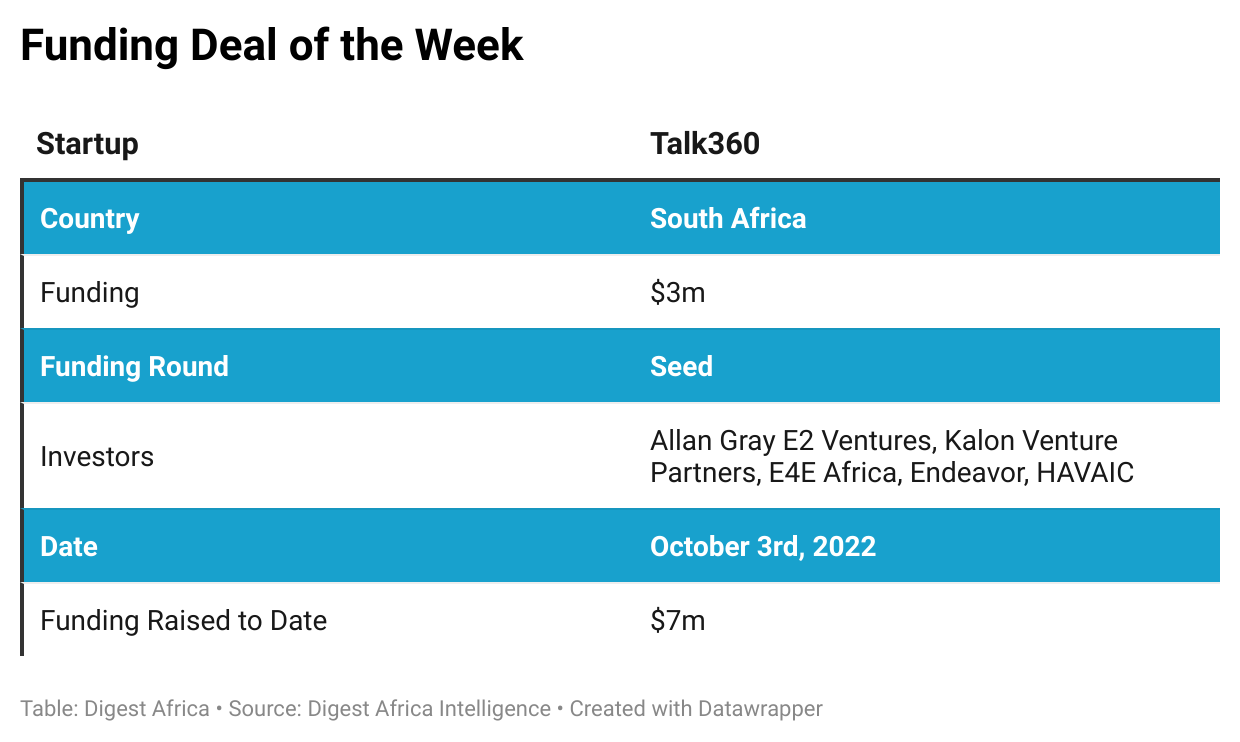 Talk360 plans to launch a Pan African payment platform next year that will interrogate all payment options on the continent and will be available for merchants, businesses and individuals. It will also expand its VoIP market share.
The lead investor for this deal was HAVAIC. Other investors included Allan Gary E2 Ventures, Kalon Venture Partners, E4E Africa and Endeavor.
Algebra Ventures Announces Closure of Second Fund
Algebra Ventures is one of the leading indigenous VC Firms in Africa. With its first $54m fund, the Cairo-based VC firm invested in 21 startups across Egypt and the Middle East. The impressive portfolio of startups included Halan, Brimore, Trella, elmenus and Khazna among others.
Now, it has finalized a $100m first close of its second fund, with the final close expected at the end of Q1 2023. The firm plans to invest in an additional 31 seed to Series B startups across verticals like fintech, logistics, health tech, edtech and agritech.
About us
Digest Africa is a leading provider of data and insights on investment into African startups that investors, corporations, researchers, banks, and startups can use to make meaningful decisions. We have a database encompassing;
Over 1,400 venture capital deals for companies raising funding over the past 5 years
More than 3,000 startup company profiles
Over 400 investor profiles
Contact us for custom research and intelligence on the African startup ecosystem and venture capital. Email: info@digestafrica.com