Uganda is one of Africa's more promising startup ecosystems outside the big four of Nigeria, Kenya, South Africa and Egypt. Much of Uganda's ecosystem is centred around the capital, Kampala. The startup ecosystem is still nascent, but it has made great strides in the last five years. 
Safeboda, a ride-hailing startup, is arguably Uganda's biggest startup and has attracted funding from Gojek ventures (the investment arm of Gojek), Allianz X and Google. Numida, a fintech startup that extends loans to Uganda's MSMEs, was the country's first and only Y Combinator alumni. It has attracted funding from Serena Ventures, Soma Capital, and  4Di Capital all investors that were making their first investments in a Ugandan startup.
Today, in our analysis, we are going to break down VC funding for Ugandan startups since 2019. In our analysis, we will focus on startups that have headquarters and are registered in Uganda. We will leave out Chipper Cash which has raised over $300m. Despite being founded by a Ugandan in Ham Sserunjoogi, the startup is headquartered in San Francisco. 
The data collected here is from deals that were revealed by founders to Digest Africa and those that we managed to track from reputable sources. The 2022 figures used here are as of 30th September. 
From 2019-2022, Ugandan startups raised a total of $153.2m across 190 deals. Per the deal count, 2019 had 107 which is more than 2020, 2021 and 2022 combined. The number of deals recorded has been dropping every year as shown by the chart below.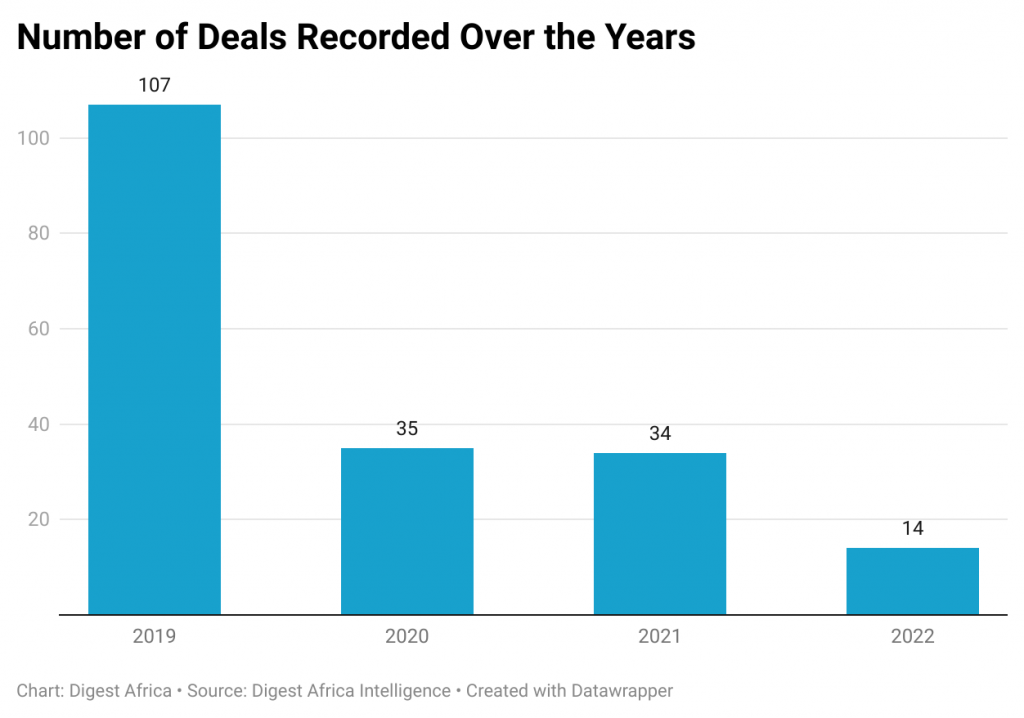 But 2022 is already the most funded year in Uganda's history surpassing 2019's total of  $48.6m despite the fewest deals being recorded. This record amount is driven by the likes of Asaak ($30m), Numida ($12.3m) and Rocket Health ($5m) which have managed to attract significant funding this year.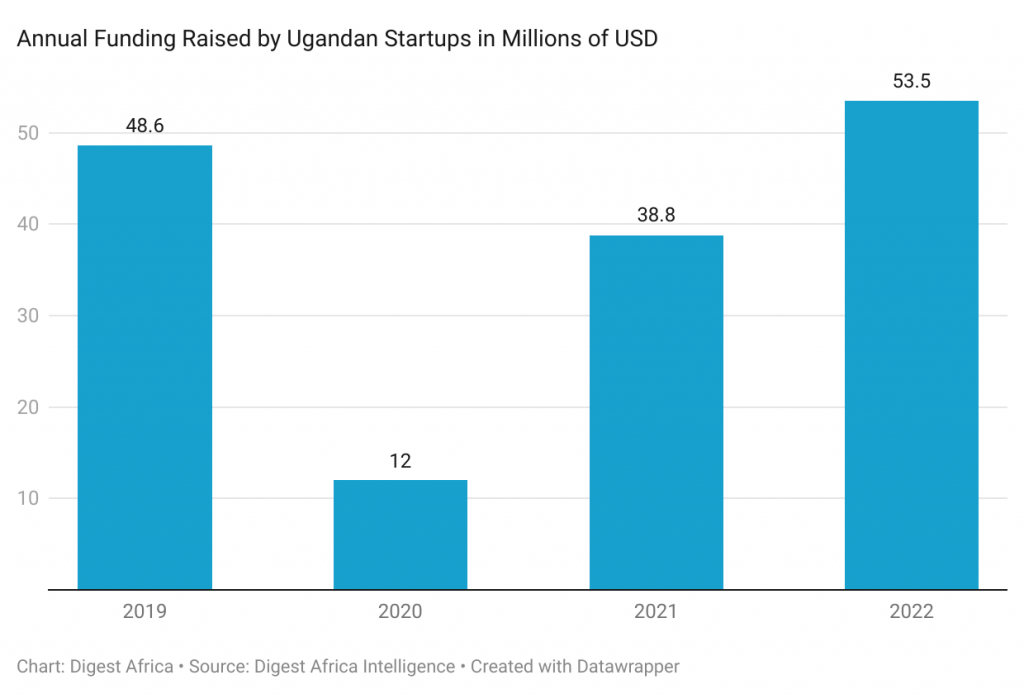 Uganda's ecosystem is a very nascent ecosystem, and this is proven by the amount of early-stage funding rounds raised. In fact, grants make up 67% of all deals we tracked and are followed by seed rounds.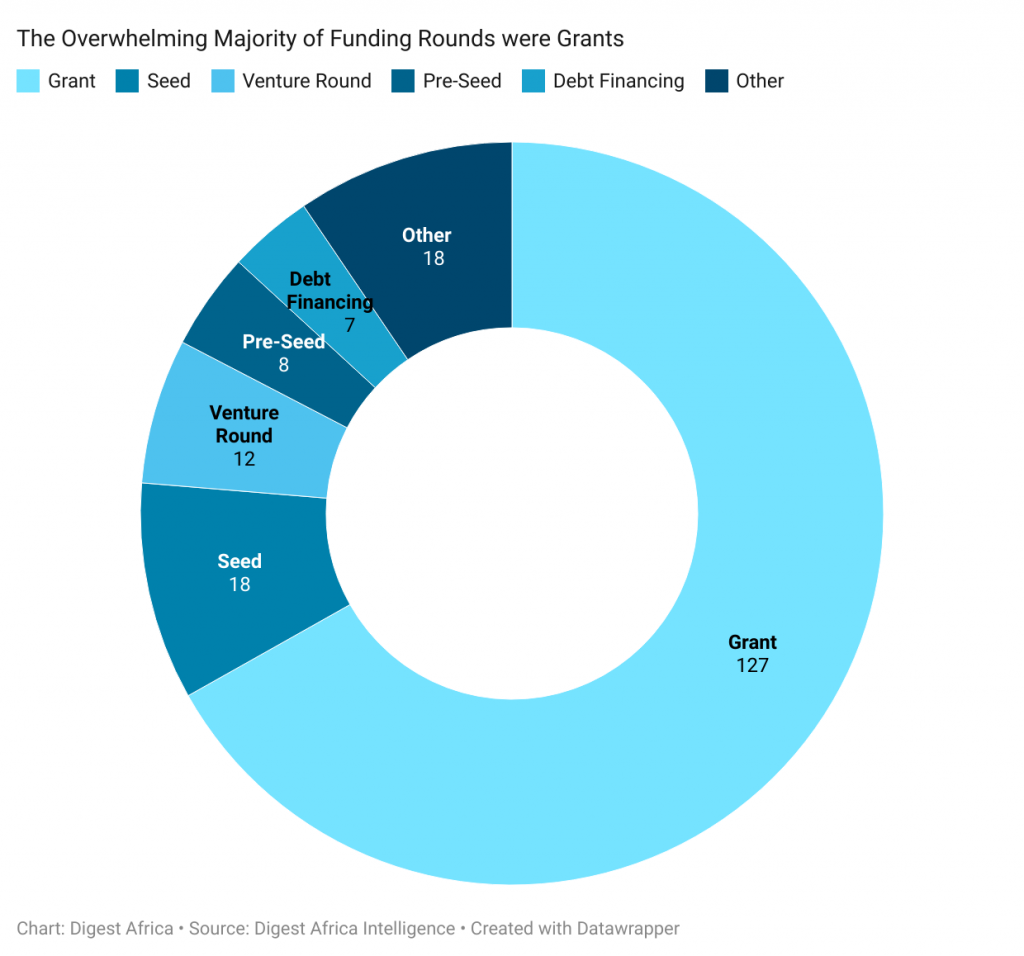 However, the average grant is just $60,000 which makes grants 6th in terms of funding amounts raised by funding round. Debt financing is the most funded type of funding. Debt is favourable in a country like Uganda that has no track record of successful VC exits. But it is limited to startups that have assets like Tugende, Solar Now and Asaak.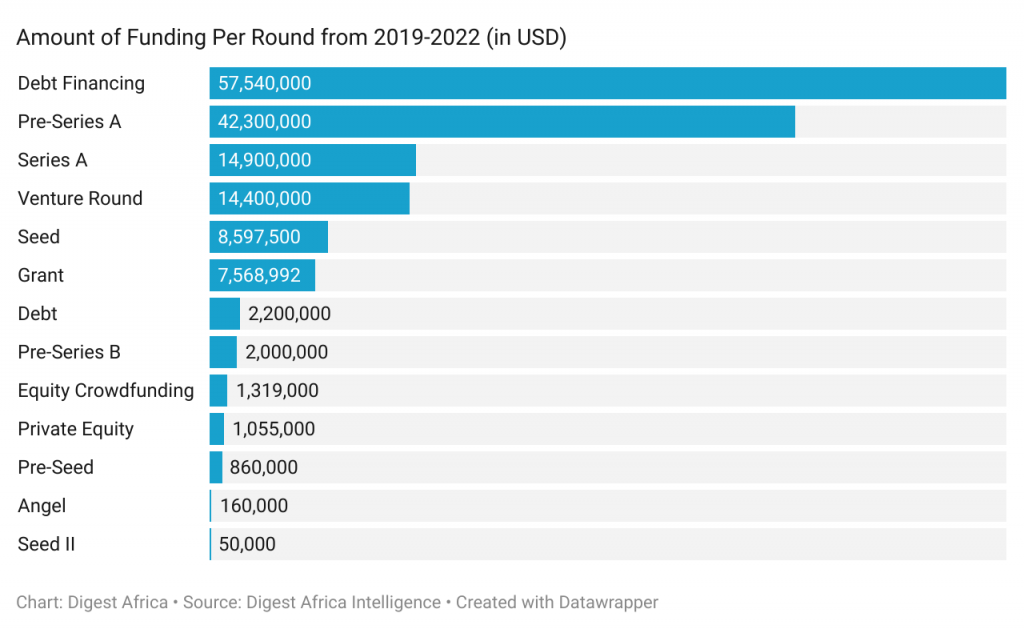 Per the National Financial Inclusion Strategy (NFIS) 54% of adults were financially included in formal institutions in 2013. Even though this is an improvement from 28% in 2009, it is still a long road ahead. This explains why financial services, just like in many other African countries, is the sector with the most deals and the most amount of funding raised.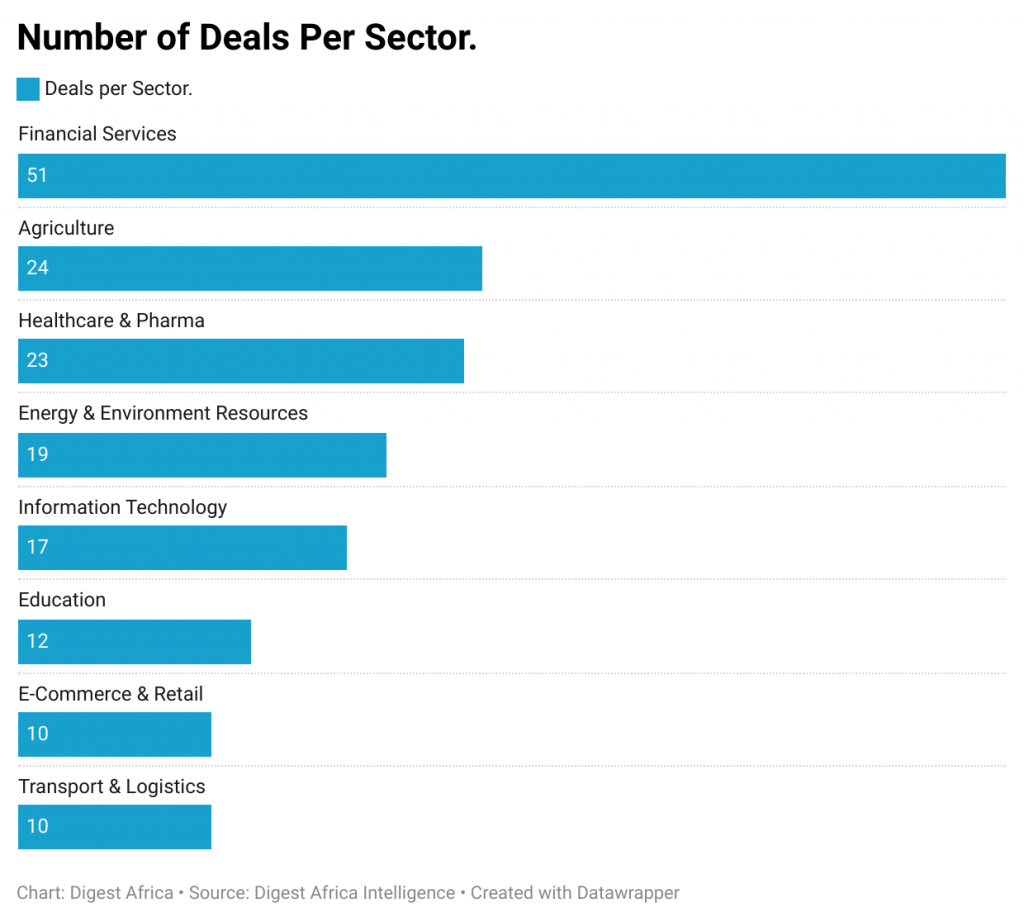 According to the Uganda National Household Survey(UNHS), 65% of Uganda's working population is involved in some form of agriculture. The figure is higher for women (70%). Only fintechs have raised more funding than startups plugging the various inefficiencies in Uganda's agricultural sector.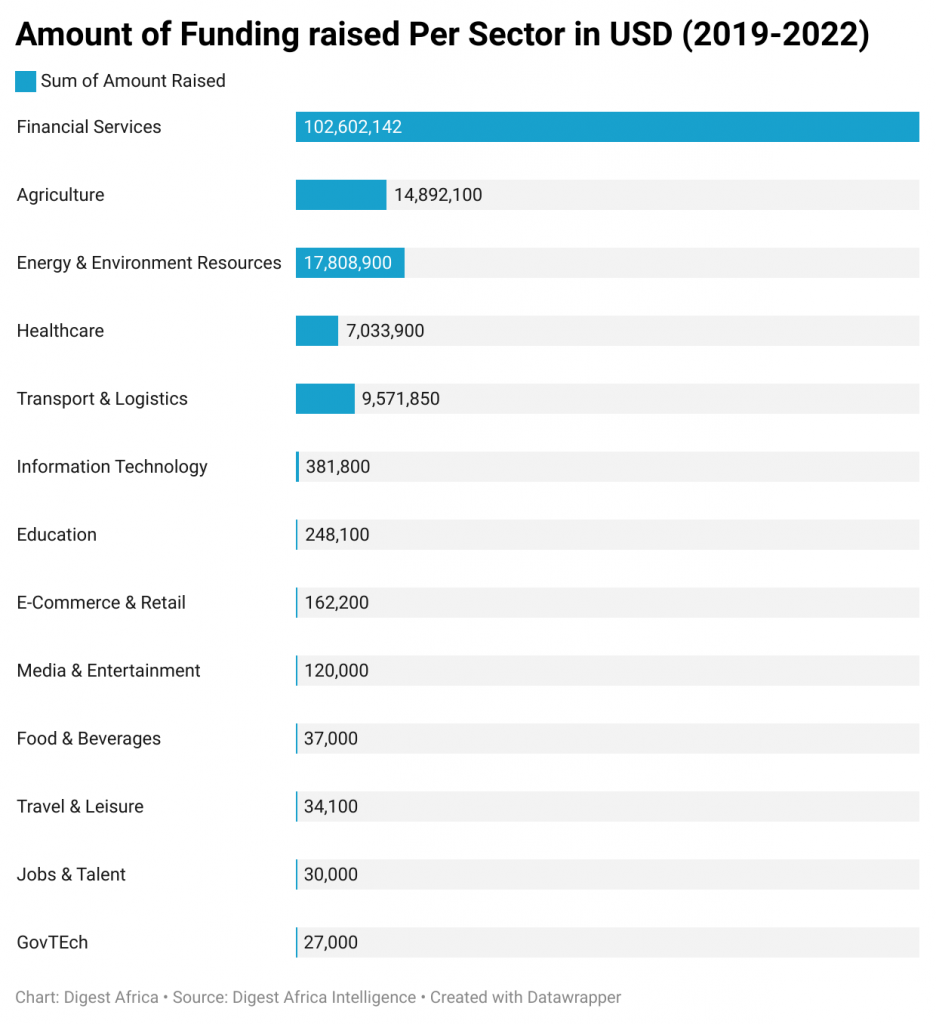 With this background of the funding, how have the startups been backed? Tugende, a fintech that enables its customers to purchase motorbikes on credit, is Uganda's most funded startup. Asaak another fintech that provides motorbikes on credit, is second, while Numida's $12.3m raise pushes them up to third.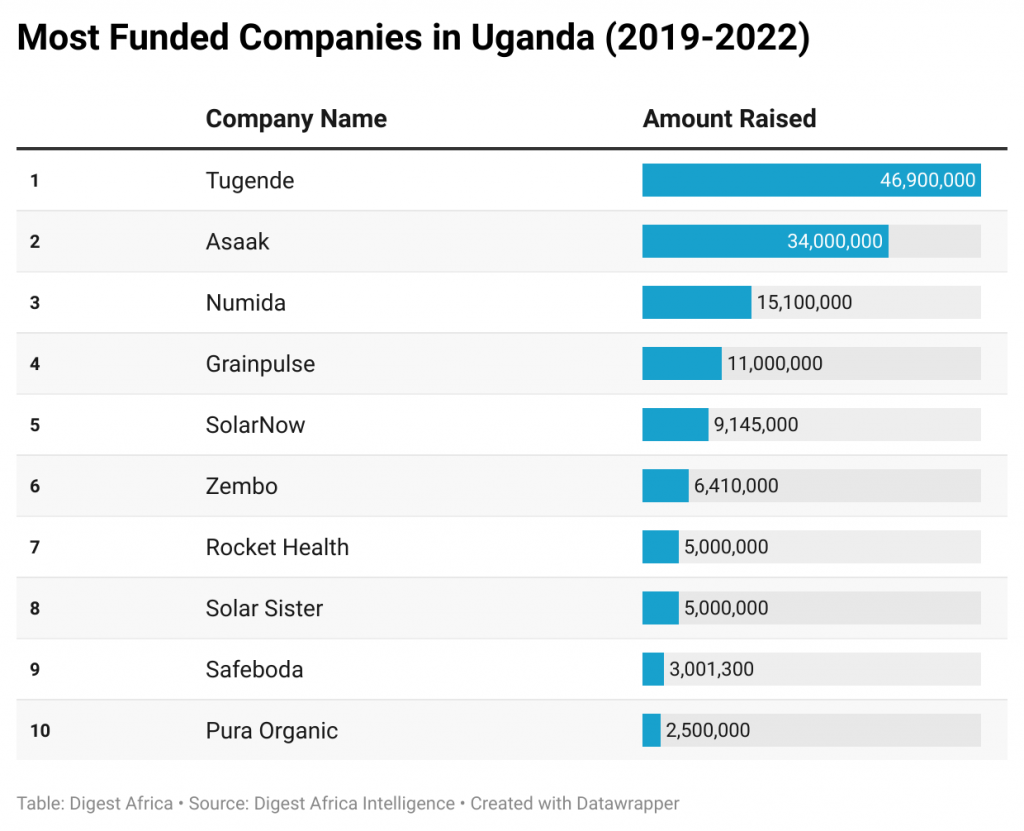 For the biggest single funding rounds raised, it is not surprising that Tugende, Numida and Asaak feature prominently. In the top 10, there are four Tugende funding rounds. Rocket Health and Solar Sister round off the top 10 having raised $5m in one single round each.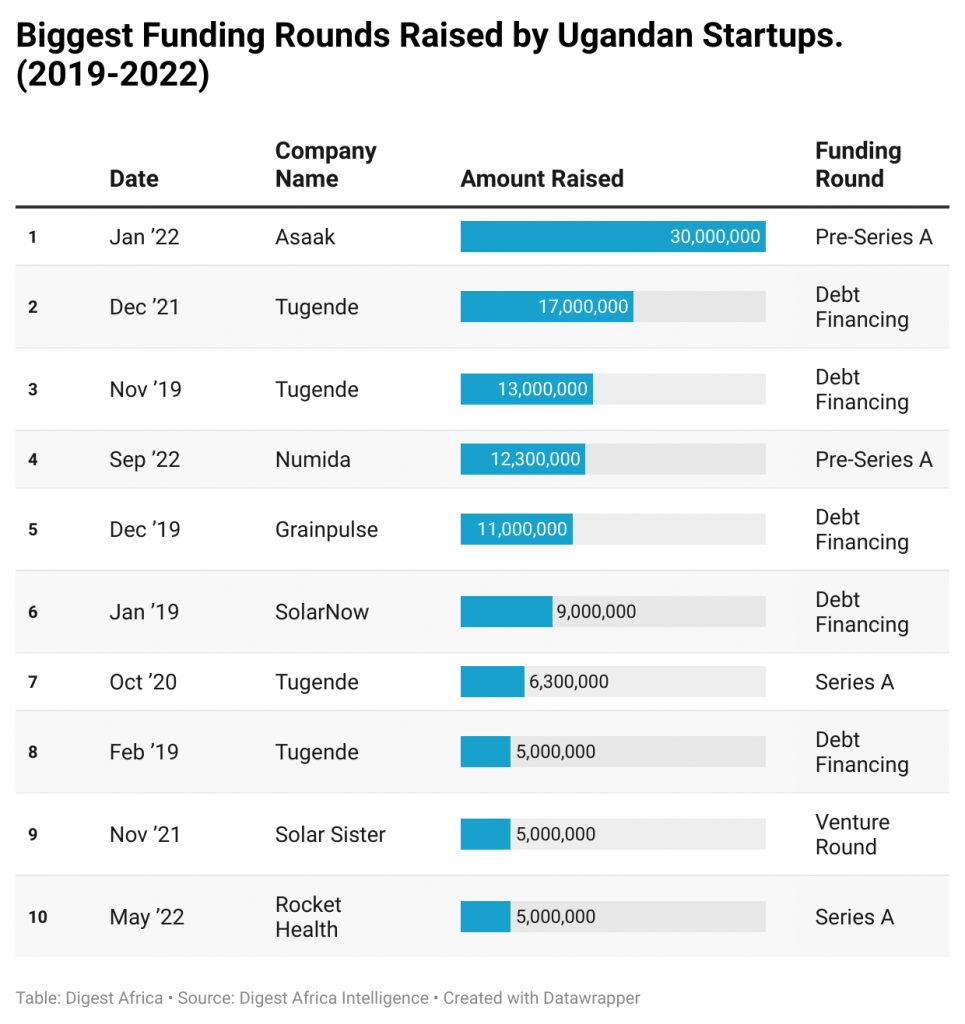 Who are the investors backing the Ugandan startups?
The most active investor by far is the national ICT Initiative Support Programme, which was a government program that funded early-stage startups through grants. The program set aside $1m to invest in Ugandan startups each year. It was last held in 2021. MTN has also been active in the local startup scene funding fintechs that use its MOMO API. It funds them through the different hackathons that it organizes. The most active venture capital firm in Uganda is Launch Africa Ventures which has backed 4 Ugandan startups so far.